Under Southern African Skies: 2006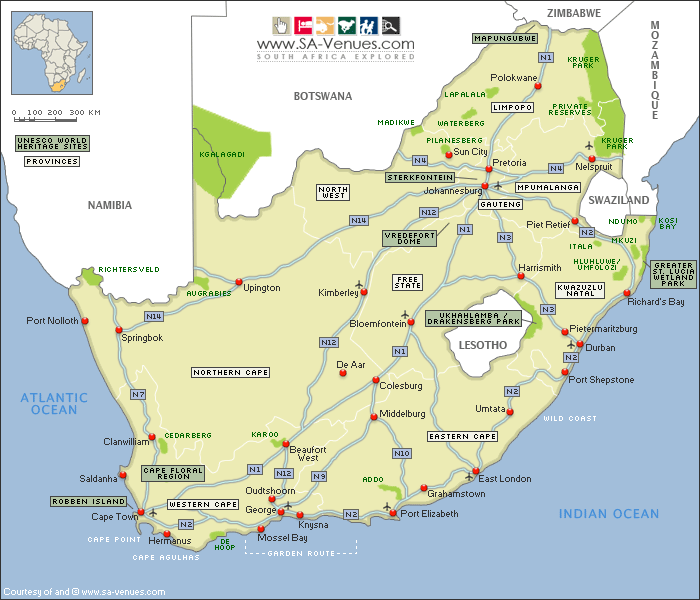 Southern Africa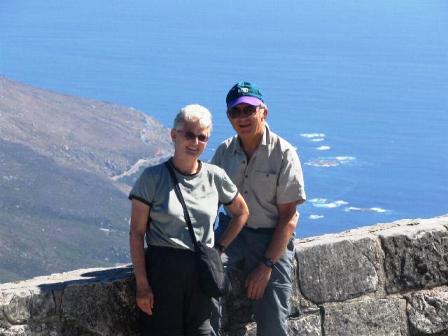 On Table Mtn, Cape Town
We originally planned on limiting our trip to South Africa, but after investigating a tour from Drifters Aventure Tours Company that included Namibia, Botswana and Zimbabwe, the countries bordering South African on the north, our trip expanded to Southern Africa.
We found the travelling much easier than we anticipated and rented a car to travel on our own both before and after our tour with Drifters. The people were friendly and helpful, English was the main language all over and as long as exercised normal caution, stayed away from certain areas in the larger towns and took taxis at night, the country was safe. The roads were generally excellent and traffic, except around major cities, was almost non-existent. The public transport options were very limited but renting a car worked perfectly when we were not on our tour. The roads were well marked and the double rooms we booked in backpack accommodations recommended in our Lonely Planet guide were clean and comfortable. Our guide on the tour, a South African named Johan, said that he considers South Africa to be a first world country in a third world setting. That is true of the cities, tourist areas and larger towns, but the majority of black townships still operate in a third world environment.
If you would like to read more about our travels in Southern Africa, Jeanne wrote up a description of their trip, which is included on this website with a selection of photos for each episode.
Choose one of the following to read about our trip and see an album of photos
Cape Town and Western South Africa
From South Africa to Namibia with Drifters
Botswana and Zimbabwe with Drifters
Return to Travels
Return to Introduction