Read Previous Episode: Bike Tour Part 1: Polignano to Leuca or Next Episode: Montecorice
Oct 11-13 2017
Jack's injury the previous day had not been helped by the biking to Leuca. It seemed better for him to take the day off and ride with our luggage to Otranto, rather than bike the distance. We phoned the bike company once again and arranged for Jack to be driven, with his bike, to Otranto.
We had hoped for a tail wind as we started north on the Adriatic coast. That was not to be but the electric motors made short work of the hills and head wind. We all kept up a good pace, averaging more than 20 KM/hr. Ray had a grand time racing ahead even faster, reaching more than 25 KM/hr uphill. We phoned a few times to find out how Jack was doing. He was picked up at 11:15 and caught up to us about 1 PM in front of a restaurant in Castro where we had our lunch. We were right across from a beach that looked very inviting. Margaret had her heart set on swimming en route at least one day and this was the last chance. Marg and I had our suits with us so we changed in the restaurant bathroom and walked down the stairs to the beach, which was divided in 2 sections. One was a concrete terrace with stairs into the sea and the other was a sandy beach at the end of a narrow cove, where we headed. The water felt cold at first but was fine when we started to swim. We had just enough time for a short swim and sit in the sun to dry before changing back into our bike gear get back on the road.
The route was about 60km and we were all seat sore by the end but felt good. We were in a hotel this time, Relais Valle de Il'Idro, on a hill a short distance above the town. Jack was already in his room with the luggage. We showered and headed into town to visit the Otranto Cathedral, noted for its amazing mosaics that covered the entire floor of the church. There was also a small shrine in an alcove next to the main altar with 3 huge display windows filled to the brim with skulls and bones. These are the relics of 800 martyrs killed by the Turks in 1480; quite gruesome. The first thing you notice as you enter Otranto is the Aragonese Castle. Once the stronghold of Otranto, it is now a center of culture and open for tours. We didn't have time for a tour but just walking around the huge structure, surrounded by wide, now dry moats was enough.
Finally it was our last day of biking. Jack really wanted to go with us but his leg was not healed. Once more he drove to Lecce, our last stop, with Mario and our luggage. Ray, Marg and I headed out on our eBikes. We had another great day cycling. The route was relatively easy with just short uphills. The first part of the route was on the cliffs above the sea. A short section on a bad, stony road led into the salty Alimini Lakes, a nature reserve. That was a waste of time. We made our way to the first lake without seeing the lake until we came to a parking place at the north end, where a school group, listening to a lecture on the lake, blocked access to any view. We were supposed to make another detour to see the 2nd lake but we just stayed on the main road.
We had a much better stop in Torre Dell'orso to admire the long sandy beach and have coffee before heading inland. Continuing on we stopped at a cemetary to discover how each community has their own traditions to honour their dead. Another stop was the small town of Acaya, one of the few remaining fortified villages in Apulia, whose layout was designed in the 16th C to optimize defense and survival capabilities.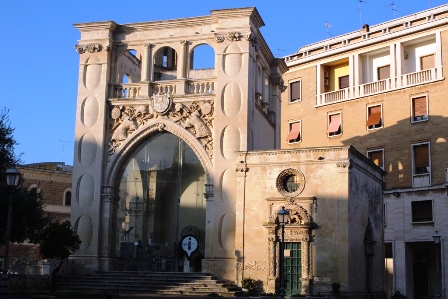 Lecce
We reached Lecce, called the "Florence of the South", earlier than the delivery of the luggage was expected. We stopped for a beer at a bar cafe before finding our B&B, Casa Di Lo, in the commercial section. Two women, owners of our B&B, arrived and told us they were bringing us to another B&B in the more interesting historic part of town. We followed one of them on her motorcycle around the narrow one-way streets to our door, one of many in the attached dwellings. The B&B had three rooms, of which we occupied two. Marg and Jack had their best accommodation so far; two rooms, adjoining each other. Mario arrived just after we did. We unloaded our bikes and gave the bikes plus the panniers to Mario and thanked him for all his assistance. We would have had a much more difficult tour without his assistance.
We had time that late afternoon and the next morning to see more of historic Lecce. We walked along narrow streets from the impressive Porta Napoli, erected in 1548 in honor of Charles V, to Piazza Duomo, admiring the many baroque churches and old buildings. Next to the Piazza Sant'Oronzo were Roman ruins of a large amphitheatre.
All's well that ends well. Despite problems with our bicycling, we enjoyed our tour and would not hesitate to return to see more of Apulia, or Puglia.
Ray's first plan to pick up our rental car in Lecce was for us to walk to the Rental company office and then come back to pick up Marg and Jack. Our hosts suggested a taxi ride was not expensive and much preferred. They were right. We would have been walking for an hour and getting back to town and out again would have been a nightmare. Insteaad we all went to the car rental office and were soon on our way to Agropoli, where we would stay overnight before meeting our friends in our villa near Montecorice.
Return to Southern Italy Intro
Return to Italy Intro