Read Previous Episode: Amalfi Coast or Next Episode: Bike Tour Part 2: Leuca to Lecce
October 5 - 10 2017
Ray and I, joined by our friends from Calgary, Marg and Jack Dunphy were on a one week bike tour around the heel of Italy, staying in Bed and Breakfasts along the way. We would start the tour in Polignano a Mare on the Adriatic Sea, travel south to Ostuni, cross to Gallipoli on the Ionian Sea on the west, follow the Ionian coast south to Leuca and head north along the Adriatic coast, eventually turning inland to end in Lecce.
"Why", I asked, "is my Michelin Map for the area titled Puglia, and the company that provides the bicycles and directions is called Apulia Bike Tours?"
"Apulia is the official Italian name, from the Ancient Greek Apoulia," I was told by one of our B & B hosts, "and Puglia is the common Neapolitan name. Both names are used interchangeably".
Regardless of its name, the area gave us quiet roads to bicycle, ancient towns to visit and sweeping vistas of the sea to admire.
We met up with Jack and Marg in Polignano a Mare, a lovely town with an historic center, sitting on high cliffs above the Adriatic Sea. We had a great, small hotel, Relais del Senatore, in the old historic area of town, where we stayed for an extra day or two to explore the town before the start of our tour. We enjoyed wonderful meals in the restaurants and Marg and I got to swim in the Adriatic from a small beach tucked in between cliffs just a short walk from our hotel. The water was still perfect for swimming and there were small sea caves at the bottom of the cliffs on one side of the beach to swim into and explore. It promised to be a good beginning to our bike tour.
Unfortunately the next day brought out our rain gear and warm biking clothes. Apulia Bike tour personel had brought Jack's eBike and touring bikes for Marg, Ray and me the night before. Ray had the GPS device, our sole navigation system, on his bike as he was designated our official leader. Instead of directing us to the correct road out of town, our GPS system kept sending us in circles around town. Fortunately the van driver, who was in town to collect our luggage for transport to our B & B for the next night, saw us standing with our bikes in the piazza where we had collected out bikes the night before, looking lost. The van driver volunteered to ride the bike with the GPS and have Ray follow him to locate the correct route out of town. After following the GPS directions on another circle of the town, Ray and the van driver were back at the piazza. By that time Ray knew where the correct road was. It was about 11 AM, but at least we were on our way to Alberobello.
The route followed the rolling hills past stony olive groves enclosed by dry stone walls, fields plowed for the next year's season and some plots of green leafy vegetables, including the odd trulli, for which the area is famous. Trulli, the plural of trullo, dates from at least 1704. Wiki told me that these small dry stone structures, built as a rounded cone topped with a small dunce cap, were probably tiny homes built to avoid high property taxes, as they could easily be dismantled if a tax man was in the area. Now, they are used as storage or temporary shelter for workers in the fields. More often trulli, or groups of trulli, have been renovated and converted into vacation houses.
With the rain still falling, we had lunch indoors in the first town we reached, Costellana Grotto. We found a small café advertising tea and hot chocolate with an overhang to shelter our bikes and relaxed. Back on the road again the GPS kept sending us in circles again until we rode back to the exact spot where we had turned off for lunch.
Finally we were back on our way again, going up and down the rolling hills, some of which were quite high, but at least the weather was improving. We were all tired. It wasn't too far then to Alberobello where we found the offices of Trulli Holiday Vacations and our separate small, comfortable trulli homes for the night.
After dinner in one of the good local restaurants, we arrived back at our trulli to find a light and sound show being projected on the largest trulli in Alberobello, right across the street from our place. A large crown was already there and we stayed for the show.
Marg, Ray and I got up a little early to walk around town and take some photos before breakfast. Booths were being set up for a Sunday market, but they seemed rather slow in starting. Men were congregating on a road below the main Piazza Populo for their Sunday bike ride. From the lookout on the piazza we could see two huge congregations of trulli that give the town a UNESCO World Heritage status for the sheer number of trulli.
Ray had scouted out the town and determined our route for the day started where the Sunday bikers congregated earlier. Ray was able to get a GPS reading to get us going and we were on our way to Ostuni under blue skies and somewhat cool temperatures.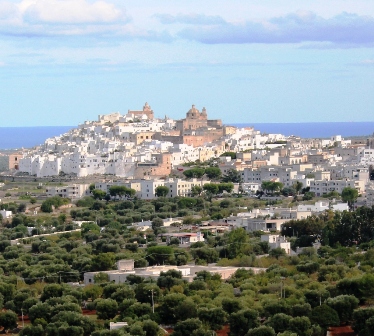 Ostuni

It was our second day of biking and lunch was going to be in the village at the top of the hill. It wasn't the first hill we were to climb and it wasn't the last. We started up and instead of leveling off, the hill just got steeper. Ray was just ahead of me and he stopped. I didn't have a choice. I stopped too and so did Marg. We three pushed our bikes to the top. Jack passed us on his eBike. Ray was jealous of Jack's bike with its electric motor but we had not yet finished our day of biking. We made it to a terrace at the top of the hill in Cisternono just about noon where we relaxed and enjoyed our picnic lunch.

The afternoon involved ascents and descents, per usual but finally, Ostuni, a white town on top of a hill was in sight.

We arrived about 2 PM and found our way into the old, historic part of town along cobblestoned streets to a steep, narrow road where we found the address given us for our B&B. We had tried to call ahead without success and there was no one at the office address given us. We phoned the Bike Tour Company and asked them to get in touch with the owner. Marg and I went back to the main square where Marg got a cappuchino and I had a gelato, with an extra spoon for Ray. By the time I got back to the office, Giorgio, the owner, was there. He had been picking up his young son at school. Giorgio has created a business buying up small dwellings in the area, some of which may have been storage caves, and renovating them for individual B&Bs. That meant that we were again in separate rooms, a few streets apart. Giorgio put our bikes in a garage off the street and showed us to our small but cosy room, up a staircase on an alley across from the garage. We went to visit the Dunphy's room, which like ours, was built into low stone arched walls.

We were all happy with our cozy homes for the night.

Our friends, the Carvers and the Greiners, who would join us the next week at the villa we had rented near Montecorice, about 1 ˝ hours south of Naples, had rented an apartment in town to use as a base to explore Apulia. They invited us to meet them for drinks at their apartment and then to go to a restaurant for dinner. The apartment, a short walk from our B&Bs, was typical of a hill town. Every room was up another flight of stairs, starting from the street entrance to the sleeping area, up another flight to a kitchen and patio and finally up again to a terrace with a BBQ. We exchanged our experiences so far in Italy and then went out to have a good meal in a restaurant suggested by our landlord. We all enjoyed the evening together, a prequel to our coming week together with more friends from our University days at Bishop's.

The next day was to begin with an hour train ride to Lecce, followed by a 60 km ride to Gallipoli, a seaside town on the Ionian coast. We were all tired from our previous days of hill climbing and Ray was concerned that our arrival in Gallipoli would be very late in the afternoon. One solution was to give up the biking, rent a car and continue the route by car. A better solution was for Ray, Marg and I to turn in our bikes and get eBikes, like Jack's. We called the tour company and Mario, who picks up our luggage every morning, agreed to exchange the bikes at the train station in Lecce. After breakfast, a nice selection of buns, fresh yogurt and jam, cut up melon, ham and cheese slices and coffee brought to our room on a tray, we packed up and rode our bikes to the train station for the 9:45 AM train to Lecce.

During our train ride it became more evident that our group could use a day off. The plan was to skip the bike ride that day and instead, take the train from Lecce to Gallipoli. Mario was at the station at 11 AM with three more eBikes, a better GPS and padded bike seat covers for Marg and me. We gave Mario our touring bikes and got the eBikes fitted up to our satisfaction and bid Mario goodbye.

Marg bought train tickets to Gallipoli for the 12:50 train. We bought sandwiches in the station cafe and found a table outside to eat them. After lunch we took the bikes to Track #6. That was a pain. It was on the other side of the tracks. We had to haul the heavy bikes down 2 flights of stairs and up another 2 flights to the other side, then walk across tracks under renovation. A large group of students were waiting on the same track. We were the only ones with bikes. The train finally came but it only had 2 cars and no bike car. The conductors just told us "too bad, but no Bicis". I inquired at the ticket booth about the possibility of a bike car on the next train. We were told there would be. No such luck. The same thing occurred when the next train arrived; lots of students, a 2 car train and no bikes allowed. I went back to the ticket booth again and inquired once more. Nobody could guarantee a train would come with a bike car.

We waited for one more train, and there was no bike car. We gave up and called Mario again and asked if he could help. He agreed to help. In the meantime we started hauling our heavy bikes back to the station. Good samaritans came to our rescue. Four young me, who had just exited the last train saw that it took three of us to carry one bike at a time up the stairs. One fellow came over, and single handed carried a bike to the top of the stairs. His friends joined in to help. In just a few minutes all four bikes were ready to be wheeled out of the station. We thanked them profusely.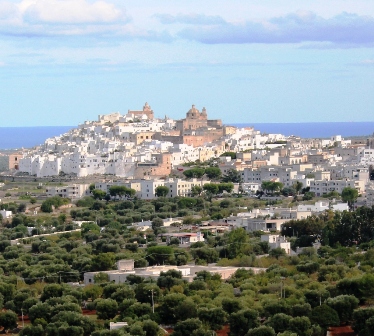 Gallipoli
Mario arrived at the station some time later after his morning pickups. We loaded our bikes into his van and got into a taxi arranged by Mario. One hour later we were at the outskirts of Gallipoli. We were let off about 1 km out of town. Mario even had padded bicycle seat covers for Marg and I and a new, improved GPS. We thanked him profusely and set off on the bikes, heading for old, historic part of Gallipoli, reached by a bridge from the mainland. We made it to B&B Corte Moline, where our host, Alberto, was waiting for us. Our room was one of four rooms, up a flight of stairs. Marg and Jack were in a nice unit on the ground floor down a side alley.
It was 5 PM by then so we arranged to meet for a drink at 6 and go to dinner together. Alberto had given us a card for Osterio del Vico, down several narrow street in the inner part of the town. It was excellent, a somewhat upper scale restaurant with some of the best dishes we have eaten on this trip. The best was the antipasto medley, 6 very different, mostly seafood dishes large enough to share for all four of us. Next we each chose either a first course pasta or a 2nd course fish dish. We were happily stuffed by the end.
Breakfast for all of us the next day was on a roof top terrace, where we enjoyed the sunshine, view and food. Afterwards, we packed and were on the road by 10:00 AM. It was our first day on the eBikes and it was an easy, nearly flat route along the shoreline from Gallipoli to Leuca. Advertised as 55 km, the only difficulty was a head wind which didn't bother us at all with our motor assist. We came to a section of the coast road with a barrier for cars. A garbage truck just behind us indicated it was open to bicycles, so we proceeded through the barrier. Jack hit a patch of sand coming through the barrier, his back wheel slipped and he fell heavily to the ground and lay there. Immediately, one of the garbage truck drivers ran over to Jack and determined he did not have any broken bones. After getting Jack to his feet and sitting on a wall, he ran back for a first aid kit and cleaned and applied antiseptic to the large scrape on his leg. We were very impressed that the drivers were trained so well in first aid. Jack refused the suggestion that he go to a first aid station down the road and got back on his bike. We had been warned that the many resorts along the coast closed for the season as soon as the children went back to school at the beginning of September. We did find a small café open in one town and took a coffee break, but we were glad we had brought sandwiches as nothing else was open.
We made it to our B&B Villa Ines in Leuca at the tip of the heel. Our host, Giorgio, showed us to our rooms and gave us a good description of the town and suggestions of places to visit. Jack stayed to rest while Marg, Ray and I took a short walk to the center to visit the row of elegant villas, built as part of an Architectural contest in the early 1900s along 2 streets facing the harbour. They represent many different styles, including Chinese, Greek Classical etc. Only one villa, now the town Info center, is open for tourists. Leuca is noted for fish and we had a very good dinner at Cafe Do Mar.
Return to Southern Italy Intro
Return to Italy Intro