Tuesday December 6, 2002 El Calafate, Argentina
Yes, we are about to leave Argentina. We have thoroughly enjoyed our visit here, but it is time to move on. We take the bus tomorrow morning to Puerto Natales, Chile. From there we hope to hike in the Torres Del Paine National Park for a few days, then we we will be heading north again.
But, I have to back up in time to our last days in Buenos Aires...
If you are in Buenos Aires, you have to go to a Tango show. That is where it all began. We chose to go to the establishment of Seņor Tango. It isnīt in the best part of town, so included in your ticket is transport in a minivan. We got picked up by Georges who told us we had 10 minutes after the show to locate him and get back on bus 16. This seemed ominous but I guess it avoids all kinds of nasties like not finding a taxi home or being robbed.
When we arrived at Seņor Tangoīs big barn of a theatre, we were escorted to the third balcony and took seats overlooking the central stage. The show was a sumptuous production full of costumes, smoke and lights and music. We were presented with a history of tango, beginning with two live horses circling the stage and working up to present day. The numbers were professionally done and very entertaining. Interspersed were songs by a woman tango dancer and several numbers by Seņor Tango himself. The background music was supplied by a traditional tango band with accordions, strings and piano. We even had numbers by a second, larger band consisting of older musicians and more accordions. The mostly Spanish audience obviously knew and appreciated the performers as they were given enthusiastic, and well deserved applause. Before we knew it, the two hour show was over. It was after midnight, so we joined the rest of the audience to find our bus ride home.
Our last day in Buenos Aires left us time for another walking tour. We headed for the Recoleta area. On the way to this upscale part of the city we walked through the well treed Plaza Vincente Lopez. Nannys had lined up their strollers at the entrance to a large play area and watched while their charges played. Meanwhile their dogs were safely stowed in a fenced in area near the play area. This looked like a great idea but my suggestion is that Buenos Aires institute more stringent Stoop and Scoop laws. The park was redolent of dog poop.
Our chief destination was the red brick walled Recoleta Cemetery, final resting place of the rich and famous in Buenos Aires. The cemetery is crammed with ornate family crypts, each competing with the next for the latest in statuary and ornate ironwork doors. The most famous grave is that of Eva Peron. We just followed other tourists to find the right spot. Judging by the fresh flowers on the door and the number of memorial plaques, she still has a special spot in the hearts of the locals.
| | |
| --- | --- |
| Family Crypt in Recoleta Cemetery | Evita Peron is buried in Recoleta too |
Right next to the cemetery is the historic Iglesia de Nuestra Seņora Pilar, built in 1732. Besides admiring the ornate silver altar, we paid AR$1.50 (about 0.75 CAD) admission to visit the cloisters. This gave us a brief, interesting history of the church, founded by the Recolta monks, a branch of the Franciscans. It is claimed that the history of this church mirrors the colonization of Argentina.
By the time we left the church we were hungry, so we headed for a restaurant recommended in the Lonely Planet. As soon as the waiter realized we were rather deficient in Spanish, he brought over the manager whose English wasnīt much better than our Spanish, but who was kindly determined to help us interpret the menu. In fact, he brought over another patron, who did speak English, to make sure there were no mistakes in our order. While we were eating, another customer sitting nearby struck up a conversation with us. That has been our experience so far. We have been treated with nothing but politeness and friendly interest.
One of the best features of our hostel in Buenos Aires was the communal sitting and dining area that allowed you to meet and trade experiences with our fellow travellers. Our last night we shared a pasta dinner, cooked in the small kitchen, with an Australian girl, an Italian, a Columbian and an English couple. It was great fun.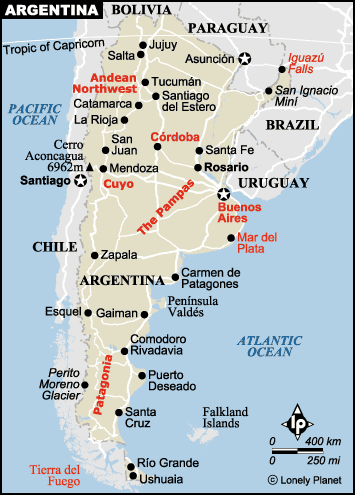 Click the map above to see an album of photos of Southern Argentina. Close the window to return to this page.
The next day we flew off to Puerto Madryn, on the coast more than 1000 Km south of Buenos Aires. We chose the plane over a 20 hour bus ride over flat, scrubland. Not very interesting scenery. In fact, most of the southern part of Argentina is like this. South America was a lush grassland with lots of dinosaurs until the Andes reared their heads. The rain from the west was cut off and the land east of the Andes became desert.
What a shock. We had just acclimatized to the heat of Buenos Aires, and we were back to cool spring temperatures of 19 C. It is only going to get cooler as we travel south, so there is nothing to do but get used to it!
We went to Puerto Madryn to visit the Peninsula Valdez, a sanctuary for sea mammals. We were not disappointed. We signed up for an all day tour the next day, Thursday, and took off in a minibus early in the morning. Our first stop was Puerto Piramid, on the Gulfo Nuevo, to board a whale watching boat. The Southern Right whales come to this area every year to have their calves and stay several months until heading off to better feeding grounds. We were lucky as the day was sunny and calm, perfect for a boat
ride.
Puerto Piramid has big tides and no central wharf, so the inhabitants have devised an ingenious method of launching the tourist boats. About 36 of us were marched down to the beach where our boat was suspended in a cradle and attached at the bow by a long handle with a Massey Ferguson tractor at the other end. We climbed aboard on a ladder and sat down while the tractor revved up and pushed the boat over the beach and into the water. When we were in deep enough water, the boat took over and backed off the cradle. Quite neatly done.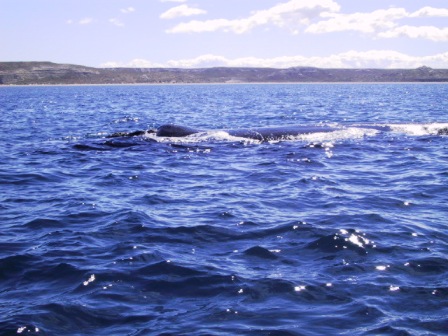 We didnīt have to go very far until we were in whale territory. There were two mothers with their calves between us and another tour boat. After the mothers give birth they stay in the area for about three or four months without feeding. To conserve energy they spend most of the time floating around near the surface, so it easy to see them. We got close enough to one mother and calf that I thought we were going to bump into them. They stayed right next to us, then dove under the boat, giving us a good display of their huge tails. We managed to get close to them again before turning back to the shore and giving them a rest.
Back on shore, we loaded into the minivan and drove to the north end of the peninsula over gravel roads. The area is flat and dry with no vegetation except scrub bushes. Ranchers keep sheep in the area but the land cannot support very many of them. We did manage to see several guanacos, which are small delicate llamas, a Rhea (ostrich) and a hare the size of a small dog. We also got to visit with two fat armadillos who live in a burrow beside our minibus car park. Our driver told us they are so fat because all the school children who visit feed them. They were quite tame and scuttled out to be fed by us too.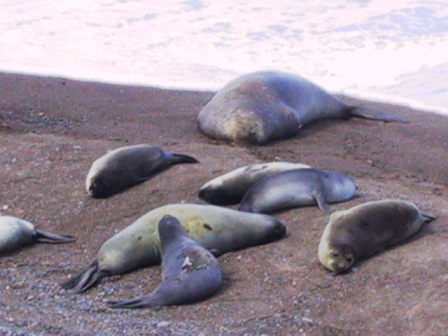 At next two stops were to see huge elephant seals lounging on the beach. There are 40,000 elephant seals along 90 K of the coast and this was part of them. Males grow a huge fat, ugly nose as they get older and compete to control a harem of 30 to 150 females. There were a few males in the colonies we saw and they sure were large and very lazy looking. Most of the action on the beach was from the younger males practising their fighting pushes and emitting loud burps. In the ocean just beyond the seals at our first seal stop we had a bonus sight of about four whales slowly making their way down the coast.
The next day we stayed around Puerto Madryn to visit their very interesting Ecocenter. We walked about 3 K along the beach front to where the center is built on top of sandstone cliffs. Just outside the center was a monument to the Welsh colonists who landed here in 1865. Their first homes were caves dug into the cliff walls. Remnants of several of the cave dwellings have been preserved for view. The Welsh must have had a cold and miserable first few years in that windy spot.
We spent a long time in the Ecocenter enjoying the displays, viewing videos and reading up on all the sea animals and birds in the area. We climbed up to a tower viewing room where comfy sofas invite you to sit and read one of the many illustrated books on the Peninsula Valdez and Puerto Madryn.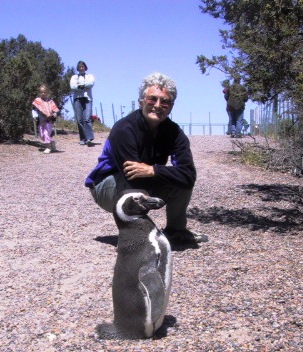 Getting to know a penguin
Another reason for visiting the Valdes Peninsula is to see the Megallanic penguin colony at Punta Tombo, south of Puerto Madryn. There are about 500,000 breeding pairs that visit this colony from September to April every year, so we took another minibus tour to see them. I spent last year in New Zealand raptuing about the six or seven penguins we managed to see so I was looking forward to seeing more of these cute little birds. Little did I realize there would be so many of them. They passed so close to us that we had to watch that we didn't step on them. We saw them swimming ashore and hopping and waddling up a steep path to their nests where their young were calling to their parents with sharp squawks. They were very intent on their business of reaching their young and we were very intent on photographing as many of them as we could.
After leaving the penguins we drove to the small town of Gaiman, one of the first Welsh colonies established after the abortive first attempts at cave dwelling in Puerto Madryn. It was a pleasant little town with a few of the original Welsh stone cottages, the remnants of an original railway built by the Welsh and a few pretty teahouses.
We ended our day with an interesting visit to the Museo Paleontologico. The area is rich in dinosaur remains found imbedded in the limestone cliffs. We were told that this now almost desert area was once a tropical paradise until shifting plates of the earth pushed up the Andes. The high mountains blocked the rains coming from the west and the lush plains were transformed to deserts. That is why the whole of Argentina south of Buenos Aires is so desolate and dry.
Our next stop was El Calafate. Once again we opted for an expensive flight to avoid a boring 20 hour bus ride. It was worth it. At least we got our first glimpse of the Andes as we approached El Calafate.
The main reason to visit El Calafate, on Lago Argentino, is to see the Glacier Perito Moreno. We took an all day bus excursion as it is 87 K around the lake from town. We had a guide with a sense of humour, sometimes a little black as he bemoaned the effect of thousands of tourists on a sleepy little village. He said people who choose to live in this otherwise godforsaken part of the world are rather eccentric and he was no different. The population of Patagonia averages 0.8 per sq K. It even takes 4 acres to support one sheep. That is because it is so barren and windswept. South America extends farther towards the South Pole than any other continent, so there is nothing to stop the winds that circle the earth.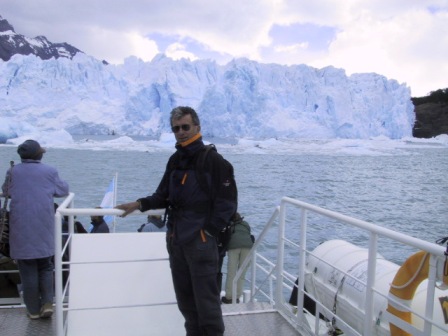 First look at Perito Moreno Glacier
The Glacier did not disappoint. It is named after Francesco (Perito) Moreno, who is considered the father of the National Parks in Argentina. He was one of the first non-native persons to explore Patagonia. For his efforts, he was awarded a large tract of land in the area which he promptly gave back to Argentina with the proviso it remained unchanged.
The Glacier, which has a front of 5 K, ends in a sheer blue snow and ice cliff, 60 M high in places, that descends into Lago Argentino. The continual snows far up in the mountains force the glacier forward at a rate of 2 M per day. As soon as the warm spring sun hits the glacier, it begins to calve. This means that there are loud booms and rifle cracks as huge sections of the glacier split from the front and crash into the water, sending icebergs sailing down lake. We spent a lot of time admiring the glacier from the cliffs facing the glacier and from the extensive boardwalks and platforms built to accommodate all the tourists. We tried to guess when the next and biggest crash would occur. In the afternoon we boarded a small boat to sail parallel to the glacier and get an even better view. We heard a loud boom and saw a huge section of the glacier fall away at the far end. It looked as if this had weakened adjoining sections so the boat speeded up to bring us closer. Sure enough, more of the glacier gave way. One section crashed into the water disturbing a submerged iceberg that breached into the air like a frozen whale. We all madly snapped pictures.
The next morning we headed off on the bus to El Chalten, a center for hiking and mountain climbing. It is only 225 K from El Calafate, but 195 K is gravel. The bus can go no faster that 40 Km/hr over this section so it takes 4 1/2 hours to get there. There is nothing in between except a few lonely ranches (estancias). At least the scenery became more interesting as we approached El Chalten. We passed by high sedimentary cliffs and had good views of Glacier Viedma as it ended in the Lago Viedma. We had to stop twice along the road. Once to let a family of Andean geese waddle across to a pond on the other side and another time to scare a small herd of Rheas into the fields.
El Chalten is a motley collection of hostels and restaurants servicing the growing number of tourists attracted to the mountains rising behind the town. There are no paved roads in the village and consequently the fierce Patagonian winds cover everything with dust. It doesnīt sound very appealing, but if you are a hiker or climber, it is the perfect spot. We managed to follow just a few of the multiple trails available.
| | |
| --- | --- |
| El Chalten Waterfall | Lago Del Torre |
The first day we had an easy walk to a pleasant waterfall and then Wednesday morning we set out for Lago Del Torre, named for a craggy peak next to it. We started out with our rain jackets on, but as soon as we climbed away from windswept village, the coats came off. The clouds were hanging over the mountains so our view was partially obscured but it was a nice walk. It took us 2 1/2 hours to reach the lake, by which time our jackets were back on to protect us from the light drizzle emanating from those clouds. The small turquoise lake was nestled in the bottom of a bowl, 2/3 of which were 50 M high gravel moraine hills and the other 1/3 was the terminus of the Glacier Del Torre. We climbed up the side of the moraine to follow a path along the top edge, but the fierce winds blowing across the lake from the glacier forced us to find shelter on the protected side of the moraine hills. We found a nice spot with a view to have or picnic lunch, then went to explore a campground in a grove of beech trees to the left of the lake. This is a base camp for climbers and for those on guided expeditions on the glacier. A couple we met in the hostel were on the glacier hike that day. From town and back again it was a 14 hour day with only a half hour lunch break on the glacier. I would love to do the trip, but I would stay in the campsite before and after the glacier walk. Several companies offer tents, sleeping bags and meals for a glacier trip.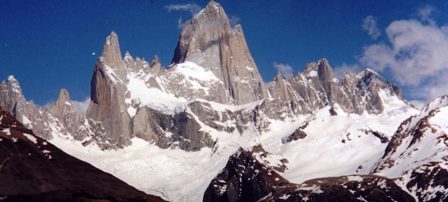 Fitz Roy peak
The next day dawned clear and blue, which is unusual for El Chalten, the perfect day to see all the peaks. I had been hoping that the cold I was developing would just go away, but it was not to be. I was going through too much Kleenex to go on another hike. I just stayed nice and quiet all day, reading a book while Ray had a great day hiking up to see Fitz Roy Peak, the most famous and difficult climbing peak in the area. It is only 3441 M high but the sheer rock sides make it a technical challenge. Ray walked up first to the base camp for climbers, at 800 M. He had great clear views of Fitz Roy before the afternoon clouds started accumulating again. From the camp he hiked up another 400 M to the Lago de Los Tres, a small tarn at the base of the mountains, named for three French climbers who were among the first to successfully ascend Fitz Roy. The lake was frozen over, the ground was snow covered and ice pellets were falling, so he didnīt linger there, but considered himself lucky to have seen as much as he did.
That same day, we took the 6 PM bus back to El Calafate. It is daylight until almost 10 PM at this latitude, so we were able to enjoy the landscape again. About 8 PM, 75 K out of El Chalten, our bus was flagged down by a couple on bicycles. They had just made a turn that brought them right into the wind. They would be lucky to make 10 Km/hr over that loose gravel. They were exhausted and realized they were not going to make El Chalten by dark. The bus driver told them there was a minibus coming along in about 45 minutes that could take them into El Chalten, but not their bicycles. Their bicycles would have to be left next to the road to be picked up by the incoming bus the next morning. They had no choice but to wait as there was virtually no other traffic on the road and no place to stay. If you want to bicycle to El Chalten, you have to have tents and be self sufficient or you put your bike on the bus for that section.
We are back in El Calafate for the day, doing chores, but tomorrow we are bussing south to Puerto Natales, in Chile. I am recuperating, so by the time we are ready to hike in Torre Del Paine, I should be fine.
I imagine everyone is getting ready for Christmas back home. It hasnīt hit us yet. There are some decorations around, but nothing like the overkill in North America! We donīt know where we will be on the 25th, but wherever, it will be an adventure.
So, goodbye Argentina, we did love you, and hello Chile!