November 2008
I used to think air travel was exciting, now it is just boring. We had intended to fly Zoom to Paris and even had our tickets before the discount airline declared bankruptcy. At least VISA came through and we didn`t lose any money but we had to find an alternate route. US Airways was the most economical alternate. That means no gourmet meals and you pay extra for things once included in the airfare. We followed the current recommendation of no alcohol when battling jetlag, mostly because we didn`t want to pay $7 US for a mini bottle of wine with our supper. To their credit the flights were on time, even early, the attendants were friendly and no luggage was lost.

Andrew`s job at OECD was what brought the family to Paris. Erica spent the last year home with the two boys but happily accepted a job as a librarian in Ecole Active Bilingue, a private bilingual school a 15 minute walk from their apartment, starting September 2. After months of battling frustrating French bureaucracy, Erica finally started work on Nov 4. In the meantime arrangements had been made to send Roman to a private daycare 3 days a week and to share a Filipina Nanny, Chow, with their British friends Libby and Spencer Wilson. That seems to be working well. Libby and Spencer`s children, Phoebe 6 and Max, just 2 weeks older than Atticus, were already friends and Chow is very good with them.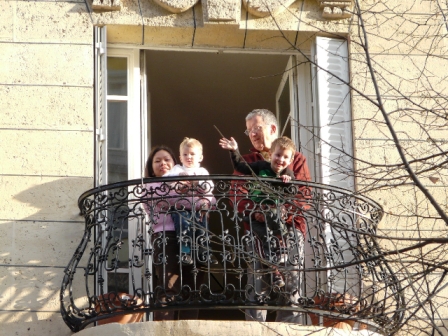 Chao, Ray and the boys from their balcony

Erica and Andrew were both at work the day we arrived and Atticus, who will be 4 on Dec 25, was at school. Roman, who will be 2 on January 6, was at the apartment in the 15th Arrondisement with Chow. We had time to unpack and rest before walking over to meet Erica after work and meet the other Canadian librarian, Jennifer. It was through meeting Jennifer at the English Speaking Moms group that Erica learned of the job opening. The school is quite large, with 1000 students from Maternale, 3 to 5 year olds, to the end of high school. Jennifer is in charge of the newly opened senior school library, while Erica is in charge of the original library for the younger students. She seems to be enjoying the challenge.

Paris is a foody city, which delights Erica and Andrew. Every street has a selection of boulangeries, patisseries, poisonneries, bucheries, marchant de vin and every other kind of food store you can imagine, each with their produce artfully displayed. We joined the Parisiens on their way home from work, choosing just the right fresh food for our dinner. The children were fed supper earlier by Chow so the adults were able to enjoy a leisurely meal of fresh sea bass stuffed with vegetables and herbs baked in parchment paper, accompanied by a good white Bourgogne for our dinner.

Today Ray and I are taking advantage of a quiet house while everyone is either at work or in daycare to rest up and adjust more to the different time zone. The skies are getting bluer as I write and the temperature is moderate. Just right for a long walk in the city, getting well needed exercise and seeing the sights. Paris is a very walkable city. You never know when you will encounter the kindness of strangers. Yesterday we made it to Gare Montparnasse. We were consulting the street map, deciding our route when a kind gentleman pointed out a gold ring on the sidewalk near our feet. It wasn't ours and it wasn't his. What to do. He pointed out that it said 18K inside the band and insisted we take it as a souvenir of Paris. We declined the offer but he insisted so we took it. He then asked for a Euro, for food, and I gave him a 2 Euro coin. Please, another he said. I gave him 50 centimes and said goodbye.

As we were walking away, Ray and I discussed the possibility the ring was a fake as it was much too shiny. Back at the apartment we showed our souvenir to Erica and she asked if we still had our wallet! Apparently this scam is being played throughout Paris, usually by a team of two men. One distracts you with the ring and the other picks your pocket. My small change purse had remained safe in my pick-pocket proof purse and our "friend" had no accomplice with him. Lucky us and slim pickings for him today.

So beware of sudden friendships and shiny objects!

What do you do in Paris when it is rainy? Of course you visit a museum. Atticus was taken to school, which he attends from 8:30 AM to 4:30 PM 4 days a week, by Andrew. Erica and I walked Roman to his daycare this morning, a 15 minute walk. Erica continued on to work and I returned to the apartment. It had really started to rain by then and I got soaked. The cleaning lady was actively getting the apartment in order. We had to get out of her way. That decided it. Instead of a long walk Ray and I took the Metro to the Musee du Moyen Ages (Middle Ages).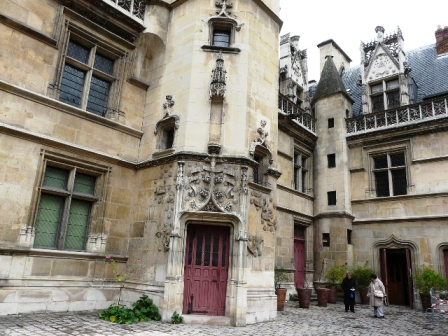 Hotel de Cluny
The museum is housed in the Hotel de Cluny, in the heart of the Latin Quarter. The original hotels were private mansions and this 15th C beauty was no exception. There are archaeological digs of Gallo-Roman baths dating from 200 AD under the main building as well as an extensive collection of statuary, religious artefacts and beautiful tapestries. The audio guide was only 1 Euro on top of the admission, a real bargain. We spent the morning exploring everything, including a special exhibit of Celtic treasures and the Lady with the Unicorn tapestries, a fascinating highlight.
The rain had stopped just in time for us to search for a good lunch spot. We wandered down narrow almost pedestrian malls until we decided on the Bistro 30 on Rue St Severin. It was a good choice. The 10 Euro menu was excellent, especially accompanied by a glass of Beaujolais Nouveau. That was essential as it is the Nouveau season. After lunch we tried to find the "best croissant in Paris", according to a review Morris Davison read last year. We had tried last March on our previous visit without success. This time we walked Rue de Seine from Blvd St Germain all the way to the river. We didn't find the right shop but we did pass art store after art store, each highlighting a different style or artist. That made the extra walk worth while. Finally we retraced our steps and crossed Blvd St Germain where we finally found Patisserie Gerard Mulot. I bought a croissant and ate it later with my afternoon tea. It was good but I can't honestly tell if it is the best in Paris. I am trying but I haven't sampled all the varieties!
We started our babysitting duties that night. Erica and Andrew left directly after work on a train to Troyes for a rare weekend away, where they enjoyed some great meals and wandered the medieval streets of the city.
| | |
| --- | --- |
| Roman's first haircut | Atticus looks so grown-up |
Our duties started lightly. The nanny Chow returned to the apartment with all the children at 5:30 PM, fed them all and turned Atticus and Roman over to us at 6:45. The next day was haircut day. This is becoming a ritual part of our visits. Roman had his very first haircut. He sat very solemnly while all his curls were cut off. He looks much more grown up. The barber gave each of them a balloon which delighted them but neither balloon lasted very long. One drag on the ground and it was blasted to smithereens. Atticus also got a lollypop which he voluntarily shared with Roman. It was too big for him to finish. The weather was cold with even a few snow flakes on Sunday but we did manage a visit to the park, a must activity. Otherwise both children were pleased to have Ray as a play companion, especially when he let them build a fort from the sofa. I took advantage of the great Sunday outdoor market on rue de la Convention. There are three markets each week on the street but Sunday is the biggest and best and very popular. There were line-ups at the most popular stalls but the wait is worth the fresh produce.
Tuesday was a walking tour of the Paris Islands. One of the two islands in the middle of the Seine is the location of Notre Dame and the Palais de Justice, the other has a street lined with shops and restaurants. We took the Metro to the Cite stop and made our way to Notre Dame, still crowded with tourists, even on a chilly November day. Like everyone else, we toured the huge interior snapping photos of the famous rose windows. The beautiful stained glass is not original. Louis XV had all the original windows destroyed and replaced with clear glass, declaring that the cathedral needed more light and a more Protestant appearance. It was not until after WWII that copies of the original Gothic windows were installed. The cathedral is full of interesting marble and stone sculptures dedicated to various Bishops of Paris and scenes from the Bible. One of my favourites was the tableau decorating one side of the chancel. The richly painted and realistic wood carvings depict various scenes from the life of Jesus.
| | |
| --- | --- |
| Notre Dame | ornate doorway |
We continued our tour around the smaller Isle Saint-Louis. Many of the shops were closed as it was the lunch hour but the restaurants were doing a booming business. Many wealthy and important Parisiens built their mansions on the shores of both islands facing the Seine. We passed several built in the 17th C, still sporting their ornate doorways and facades. Hotel Lauson was built in 1656 for a corrupt French army caterer who didn't have long to enjoy its charms. He was arrested and the building was renamed for its next tenant, Saint-Simon's brother-in-law. Another, Quai aux Fleurs, has sculpted heads above the door and carved wrought iron door decorations commemorating Heloise and Abelard.
The chill November air got to us as we made our way around the islands so we cut our tour short and made our way to a tea room in the St. Germain district, just across the bridge. A pastry and a hot cup of tea was enough to revive us. There will be time tomorrow to explore another district of Paris.
We managed one last museum visit yesterday, before leaving Paris for a flight to Singapore. Morris Davison had recommended the Musee Marmottan-Monet. The museum was originally the private residence of Jules Marmottan, a 19th C industrialist, and his on Paul. Jules was a collector of Napoleonic era art work and his son added impressionist works. The mansion and the collection were willed to the Academie des Beaux Artes upon the death of Paul. The museum boasts the largest collection of Claude Monet paintings in the world, as well as works by other impressionists, Manet, Renoir, Sisley, Degas, Pissaro, Gauguin, Degas and one woman, Berthe Morisot. There was also a special exhibit of Monet highlighting his use of light and colour, very impressive. Well worth a visit if you are in Paris. A plus for seniors is a reduced entrance fee!
Ray and Erica had a treat for our last night in Paris. Erica had 2 tickets to see Leonard Cohen perform. The concert started with Cohen entering to the cheers of 5000 adoring fans at 8 PM and didn't finish until the last of 4 encores after 11 PM. Cohen still has the ability to elicit standing ovations, even at 74 years old.
Chow had both Atticus and Roman to care for today. Atticus is normally at school but his teacher was on rotating strike duty, so he had a holiday. His friend Max had his day off last week. I am not sure what the issues are for the teachers but strikes are a way of life in Paris, just something to cope with.
Ray and I met Erica for lunch at a restaurant near her school. Lola's is deservedly popular. Nearly all the tables were taken by Parisiens enjoying one of their favourite pastimes, a good meal. It was nice to spend extra time with her now that she is working full time.
A note about getting to and from Charles de Gaulle airport. We have tried almost all of them:
You can get a private taxi at €90 plus or you can order a private car to take you directly to your hotel at €60. Make sure you reconfirm with a private car service the day before arriving. It takes at least one hour to get into the city, depending on traffic.
One cheaper option is to reserve a minibus to meet you at the airport. There are several companies on the internet that charge €18 each. Some of the companies require you to phone them on arrival in Paris. We seem to have better luck with shuttle firms going the other way i.e. picking us up in Paris and driving us to the airport. Going from the airport to the city has had problems. We gave up on the Allo shuttle company when they failed to appear one time and we couldn't reach them on the phone. We had better luck with Yellow Van Shuttle service. Allow 1 1/2 hours either way.
Another option is to take the regularly scheduled airport bus from Charles de Gaulle to Montparnasse or Gare de Lyon train stations for €16 each. You just pay the driver when you get on the bus. From either train station you can then tack a Paris taxi to your hotel. We have done this successfully twice from the airport to the city. Allow 1 1/2 hours for this method.
Leaving Paris for Singapore we had lots of time to get to Charles de Gaulle airport so we took the Metro-RER option. That involved backpacking our luggage to the Metro station and making two changes, but we lucked out and got the non-stop RER from Gāre de Nord all the way to Charles de Gaulle and it only cost 8.30 Euros each. This is a good way to go if you do not have much luggage and are not rushed, but it does involve a fair amount of walking.