Click the photo of Notre Dame above to see an album of photos. Close the window to return to this page

Coming to visit our daughter and family in October in Paris is becoming a tradition. We like to schedule our visits to include at least part of our grandsons, Atticus and Roman, two week school break, which is approximately six weeks after the start of the school year. They are old enough now that we can take them on a trip without their parents and the parents, Erica and Andrew, get time to themselves. It is a win-win situation.

This year we arrived in Paris early in October for a few days with the whole family before Ray and I took a side trip to Strasbourg, after which we returned to Paris for a weekend and then took the boys with us to Amsterdam and Bruges.

As usual, Erica had done some research and was able to suggest several outing in Paris. There was a special exhibit of Mexican Art from 1900-1950, featuring Diego Rivera, Freda Kahlo and contemporaries at the Grand Palais. Mike and Edith Sims, Vancouverites who are good friends of Andrew's father Herb, played the piano during the memorial service for Andrew's mother last June in Vancouver. Mike also arranged for Ray and I to stay in his son's basement apartment for our June visit. We arranged to meet them at the Grand Palais our first Saturday in Paris and spend part of the day with them. Ray and I spent an enjoyable time recognizing several of the paintings we had become familiar with in Mexico and learning more about the depth of talent in Mexico. As we were finishing, Ray, Erica and the boys took advantage of interactive dispays by posing for photos wearing Mexican masks and then getting the boys to pose in life-sized figures of a Mexican girl soccer player, taken from one of Rivera's paintings.

Lunch was to be in a Chinese restaurant Erica and Andrew were familiar with. We took the Metro to Notre Dame Cathedral and walked through the grounds on the way to the restaurant, passing several couples having wedding photos taken, before crossing a bridge to the Saint Germain area where we had a Chinese feast. Roman's favourite gelato shop was nearby. We wandered down several streets that Mike said were very familiar to him. He had lived in Paris about 50 years ago where he supported himself by playing jazz piano in a club. Mike found the Caveau de la Huchette, still in the same building, so of course we took Mike and Edith's picture in front of it. The gelato shop was just down the street. I had a small cone but Roman got his price. He had a large cone with 3 flavours artfully arranged like a flower.

The next day, Erica, Ray, Atticus, Roman and I took the Metro to Parc de l'Isle Saint Germain, on the River Seine. There banks of the Seine were lined with a variety of house boats, both big and small, and several working barges. The island is a popular park with walking and jogging trails fields to play soccer, and a hill, on top of which is a huge, multi-coloured pillar sculpture, the Tour aux Figures by Jean Dubuffet.

On our return to Paris from Strasbourg and the Alsace Wine Route we took the boys to visit the Musée des Arts et Metiers with its collection of scientific instruments and old and new transportation vehicles. Ray and I appreciated the scientific instruments and their history, but the boys preferred the old cars, buses and WWI planes hanging from the ceiling of a deconsecrated church that is now part of the museum.

The next day the boys were back at school so Erica, Ray and I rented a coop car and drove to Poissy, just outside Paris to see Le Courbusier Villa Savoye house, built by the Swiss architect and his cousin Pierre Jeanneret, between 1928-1931 using reinforced concrete and very modern flat roofed design.

We also went to the nearby town of Saint Germain en Laye where we had lunch, and visited the pretty center of the town. We also visited a museum dedicated to the artist Andre Derain, housed in Derain's former home. Both the house furnished as it had been when Derain lived there, and gardens were on display. I especially liked the small chapel built and decorated by Derain.

We ended our day in Saint Germain by walking on the grounds of the Royal Chateau de Saint Germain en Laye. The chateau was first built by Louis VI around 1122, burned by the Black Prince in 1346, rebuilt by Francis I in 1539, and expanded several times since then. Louis XIV was born there. The gardens, a popular destination for locals on this weekend afternoon, were one of the first in France in Italian style, similar to the gardens at Versailles. One man was flying a drone over the crowd enjoying the view of Paris from the edge on a cliff at one side of the property.

Ray and the boys and I took the train to Amsterdam October 24 , where we stayed for four nights before travelling by train again to Bruges where we spent another three nights before returning to Paris.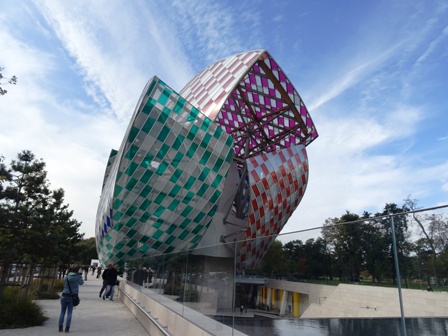 Our last Sunday in Paris, we all went to the Louis Vuitton Foundation Art Gallery on the edge of the Bois de Boulogne. Designed by American Frank Gehry of coloured glass sails, curved to billow out and encompass the galleries underneath. The design was inspired by the glass Grand Palais. Sunday was the opening day of a new exhibit featuring the modern art collection of Russian art dealer Shchukin. It was a capacity crowd forcing us to line up for ½ hour to get in, even though we had timed reserved tickets. The collection was huge, including 20th C French artists and Russian artists inspired by the European masters of modern art. Ray and I spent quite a bit of time on the roof terraces, covered by the colourful glass sails. There were good views of Paris from the top and also the adjoining Bois de Boulogne Park.
Touring the Louis Vuitton Gallery made us hungry. The family favourite Sushi restaurant was within walking distance and the boys especially love sushi. The small restaurant is designed with the cooks in the center loading small plates onto a conveyor belt that circles between the cooks and the tables. You just grab an interesting looking dish from the conveyor belt as it winds past your table. Everything I chose was delicious. The total cost at the end of your meal is calculated by the number of dishes you consume, the same principal used at a Chinese Dim Sum or Spanish tapas restaurant.
Click either Strasbourg or Alsace Wine Route to read about our visit and see photos.
Click either Amsterdam or Bruges to read about our visit and see photos.