We are lucky. We have a place to stay in Paris. Our daughter, Erica moved to Paris with her husband Andrew and their two boys, Atticus and Roman, several years ago. October 2015 gave us the opportunity once again to combine a visit with the family and get to explore more of Paris, both before and after our planned walk in the Dordogne and our stay in Provence with our friends.
The boys are attending a new school this year. Collège de Sèvres, a private Bilingual school. We are pleased they are being taught in both French and English, even if it means a longer commute. They were pleased to take us along with them to school several mornings and show us how well they managing taking both a tram and a bus to get to school.
When the boys are in school and Erica and Andrew are at work, Ray and I take advantage of going to some of the wonderful small museums in the city. This October we went to the workshop and museum of sculpture Antoine Bourdelle, near Montparnasse. The museum is popular with school groups and we could see why. Besides many of Bourdelle's huge statues, the museum has very informative displays explain the steps involved in producing the huge bronze works.
The advantage of living in Paris is that friends and relatives of Erica and Andrew get in touch with them when visiting the city. Shortly before leaving Paris for our planned hike in the Dordogne, Erica and I had dinner with Erica's cousin, our niece, Nadia Scipio. She was in Paris for a business meeting with fellow Canadian Global Affaires employees. This was a treat as we don't get to see Nadia often as she has been working in Los Angeles for the past few years.
Our return to Paris on October 25 after our Dordogne walk and our week with our friends in Villa Mas St Damien in Provence, was not to the apartment on rue de Langeac. After more than a year of plans and preparations, the bathroom in their apartment was being torn apart and rebuilt. Erica found an AirBnB apartment, close enough for the boys to walk to Collège de Sèvres, for the two weeks they had to vacate their apartment. Andrew was off for business meetings in Barbados, so the five of us settled into the apartment.
The boys had just a few days left of the school term before starting their two week break. Ray and I took over during the school break while Erica returned to work. The apartment was right across the Sèvres Bridge where the huge, popular Parc de St Cloud is next door to the Sèvres National ceramic museum. We took the boys to the park where they could try out the sloped, paved walkways on Atticus's trottinette (scooter). For dinner one night, Atticus and Erica made Atticus's favourite food, sushi, from scratch. We all enjoyed the results.
We gave the boys an opportunity to choose their top entertainment choices in Paris. The first choice was a visit to Parc Jardin d'Aclimatation in the Bois de Boulogne. This is mostly an amusement park for younger children. Both had visited before with a school group and were looking forward to another visit. We paid the entrance admission and bought 25 tickets to allow them multiple rides. I accompanied them on a few rides, but Ray has never been a fan of amusement parks, so it took a bit of encouragement from the boys to finally persuade him to join the boys. He had such a good time, he wanted to go again. We finished the day with a visit to the more traditional park with swings and a small zip line. It was a great success.
Their second choice was Tête Dans les Nuages, an arcade full of video games and virtual rides. This is a favourite place for a birthday party for 9 to 11 year olds. They had fun but I think they really preferred the previous day at Parc Jardin d'Aclimatation. By 1 PM, we were ready for lunch at MacDonalds, right across the street. The French have fallen in love with hamburgers and fries at "MacD". Half of Paris school children, all on their school break, were lined up to order their new found treat in the overcrowded fast food emporium. It took a lot of manoeuvring to find empty seats together, but we managed. We will not be returning soon.
Halloween is not the highlight of autumn as it is in Canada, but it is gaining popularity. Erica booked cabins for Halloween weekend at Huttopia Rambouillet, a popular caravan park near Versailles that provides activities for children vacationing with their families. I had spent a week with Atticus and Roman at a Europark in southern France in October 2013. Huttopia is another company offering similar accommodation and activities.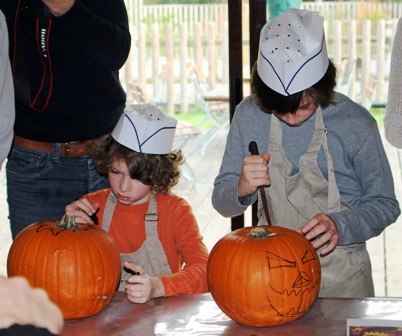 We had a great time. Erica rented a car and we set off for Huttopia Rambouillet on Friday afternoon before Halloween. We had two comfortable huts complete with kitchens and BBQs, one for Erica and the boys and one that resembled a traditional caravan, for Ray and me. We rented bicycles to explore the many paths in the adjacent forest, where we were lucky enough to see a demonstration of Birds of Prey, put on by park naturalists. The boys had brought Halloween costumes with them and this was the place to wear them. The park provided pumpkins to carve, face painting, scary storytelling and a treasure hunt for candy. As soon as it got dark on Halloween, the boys got dressed up and went out Trick or Treating. It was obvious the French visitors at the park were not used to children knocking on their door asking for candy treats, so the boys ended up passing out the candies they had accumulated to other children instead. They had fun anyway.
Leaving Huttopia we made a stop to explore Château de Rambouillet, originally a fortified manor dating from 1368. 200 sq KM remain of the original hunting grounds of the Forest of Rambouillet. Louis XVI persuaded his wife Marie-Antoinette to live in Château de Rambouillet by building her the Queen's Dairy with its famous Sèvres porcelain milk buckets on the property. The French Revolution emptied the palace of its furnishings and the gardens and park fell into neglect. Since 1896, the Château has been the summer residence of the Presidents of France and is used for bilateral summits. The Château wasn't open to visitors so we explored the extensive grounds, much to the boys delight.
Ray and I had never visited Chartres, with its famous cathedral. This was the perfect opportunity as it was just a short detour on our way back to Paris. We had time to have a picnic lunch in a square in the center of town and to explore the Cathedral and admire the Rose window that has become its symbol.
Back to Paris, we found Andrew, just returned from Barbados, in the apartment. We had a look at the progress of the bathroom renovations before returning to the AirBnB. And so ended our always enjoyable October visit to Paris. We flew back to Ottawa the next day.
Click Dordogne Walk Oct 2015 to read about our walk in the Sarlat area and see a photo album.
Click Provence Oct 2015 to read about our week with friends in Villa Mas St Damien and see a photo album.