Paris France


What do you do to occupy two active boys during their school holidays? You send them to Play Camp at their local school and you go for walks, especially through forests. We did that in Paris with our grandsons, Atticus and Roman.
Last September Atticus and Roman started at a new school next door to the apartment they moved to almost two years.They missed their old friends and were happy to attend Play Camp at their previous school and see everyone again. That gave Ray and I time to visit Liz and Yves Dat who live in Lion sur Mer, on the Normandy coast. I had known Liz from my years growing up in Town of Mount Royal, in Montreal and at Bishop's University. She and her husband had joined us in Ireland and in Brittany, but a diagnosis of early Alzheimer's has put an end to her visits with our group. I had not been able to visit Normandy in the past few years, so Ray and I rented car on Thursday October 31 and drove up to Lion sur Mer for the day. We found them both well and enjoyed a good visit, catching up on the latest family news and had lunch in a good local restaurant. We will make sure we schedule another visit the next time we come to Paris.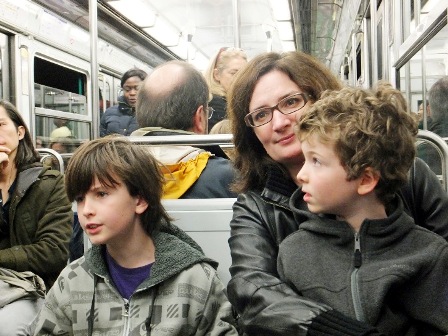 Is there anyone who doesn't like chocolate? Parisiens like chocolate so much that an big chocolate exhibition is held every year. Roman spent the day with one of his classmates but the rest of us went to see the show. The first sight we had as we entered the large Exhibition center was a 3 meter long chocolate airplane. We followed the throngs of chocolate fanciers past a display of mannequins dressed in chocolate couturier outfits and my favourite, a chocolate Manniken Pis, just like the famous Brussels fountain, except this one was dressed in a chef outfit and peeing chocolate. There were booths from most of the cocoa producing countries and free samples of their chocolate. Ray prefered the free samples of Bailey's Chocolate liquere. If the free samples weren't enough, there were lots of chocolate treats for sale. I bought a delicious skewer of chocolate coated fruit. We didn't need much lunch after that visit.
It is always an adventure exploring the small museums and parks in Paris with the Auerbach clan. The boys aren't very interested in spending a lot of time in museums, but they love parks. A new one for us was Musée Albert Kahn, housed in the former home and estate of the owner in Boulogne Billancourt
, a suburb of Paris. Born in 1860, Albert Kahn founded his own bank and spent his fortune setting up a series of bursaries to advance his and France's knowledge of other societies around the world.
From 1909 to 1931, he commissioned photographers and film cameramen to record life in over 50 countries. He amassed a collection of 180,000 metres of b/w film and more than 72,000 autochrome plates, the first industrial process for true colour photography.
| | |
| --- | --- |
| Koi in Albert Kahn pond | Stream in Albert Kahn garden |
Kahn was also interested in the sciences and set up a biology laboratory. This led to commissioning gardens for his houses in Paris and the south of France.
The stock market crash of October 1929
wiped out his fortune. His property was confiscated and the Boulogne estate, where the museum is located, became the property of the Hauts-de-Seine Department in 1936, although Albert Kahn was allowed the use of it until his death in 1940. The four hectares (eight acres) of gardens were restored and maintained in the spirit of their creator, showing his interest in gardens all over the world. Erica and the boys went straight to the gardens to wander through the
forested area, search for huge Koi in the ponds near the Japanese pavilions and climb on the rocks lining waterways and waterfalls.
Andrew, Ray and I first explored the photographic collection, which we found fascinating, before admiring the gardens. The whole of the area is a treat. Visit if you are in Paris. It is a short ride on the Metro.
We had dinner guests that night. Andrew solved the problem of not enough time to cook dinner by visiting his favourite local butcher. As well as roast chickens, he also cooks a delicious pork roast on a spit, and makes roast potatoes. I haven't come across this in Ottawa, more's the pity. Brendan Hickling and his family of three children and a Greek Mother-in-law had been spending the children's fall school holiday in the Alps and were on their way home to Warwick, England. Brendan's father and Andrew's father had worked as Architects together in Montreal and had kept in touch. We had an enjoyable evening chatting and getting to know the family.
| | |
| --- | --- |
| Picnic on the rock at Fontainbleau | Plaque on rocks at Fountainbleau |
The Forest of Fontainebleau is one of the most popular national parks in France, as it is with the Auerbach family. There is a royal castle to visit but we were interested only in the hiking trails that Sunday. We took the metro and a suburban commuter train out to Fontainebleau, getting off at a whistle stop and clamoring down a bank to reach the Blue hiking trail. We were not the only ones getting off in the middle of the woods. This is a popular stop. A few people, with mountain bikes managed to rush and get on the train before it started up again, although it was not officially a departure stop. We had more than two hours following the blue trail through the woods. We had a few hills to climb and lots of boulders for the boys to explore. We stopped at an old lookout to have our picnic lunch of sandwiches. A large group of middle-aged French hikers stopped for lunch at the same place. Their lunches looked a little more interesting than ours. Being French, several had brought bottles of wine and appetizers.
Libby Wilson and her children, Phoebe and Max, had gone to Belfast, Libby's home, for the week. Libby and Spenser invited us over for afternoon tea. It was different from my tea time in Ottawa. Libby made crepes for everybody that we spread with our choice of Nutella, jam or lemon and rolled up for a delicious snack. Everybody, especially Max, who had five, enjoyed them.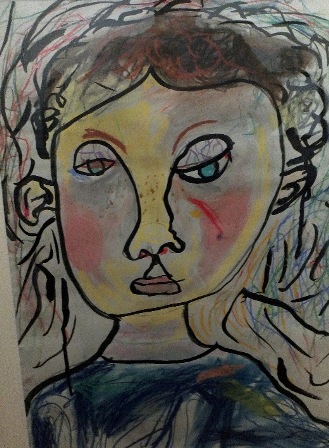 Self portrait by Roman