Paris 25 Dec 2010

We haven't had the easiest start to our trip this year. To start, Britain experienced the worst storms since 1959, causing the cancellation of our British Airways flight on Sunday, December 19th, to Paris via London. After spending most of Sunday on the phone with British Airways, we managed to book a flight four days later. We finally left Ottawa on the 1 PM bus to Trudeau Airport in Montreal on the 23rd of Dec, expecting to be in plenty of time for our 7:45 PM flight. We needn't have rushed. The first plane didn't leave until after 9 PM. The good news was that our overnight flight to London had been upgraded to First Class and we were rebooked on a later connecting flight to Paris. The bad news was that we arrived in Paris missing one of our three suitcases. We weren't the only ones left watching an empty carousel endlessly making the rounds. It looked like an entire baggage container had missed the flight. There was nothing we could do but fill out a missing baggage claim and take a taxi to Paris.

At least we were in time for a promised Christmas Eve celebration with our daughter Erica, son-in-law Andrew, their two boys Atticus, whose 6th birthday was the next day, and Roman, who will be four on January 6. We were joined by good friends the Wilsons, with their two children and a sister and brother with his girlfriend from England. Andrew was the chef extraordinaire. We feasted on seafood, including traditional oysters, homemade pate de foie gras, topped off by salad, cheeses and a Bouche de Noel, the traditional French Christmas Cake, all washed down with copious quantities of Champagne. Max Wilson, who turned 6 just 10 days before Atticus, requested lobster for his and Atticus special birthday treat. Two lobsters were purchased and the two birthday boys helped to get them ready for the pot. They gave them a nice back rub to calm them down before helping to pop them into the boiling water. Max said he would have preferred keeping them in his aquarium at his house but he didn't refuse to eat them. All the children had fun breaking the shells and devouring the meat. The adults had to beg for a small taste! Two lobsters won't be sufficient next time.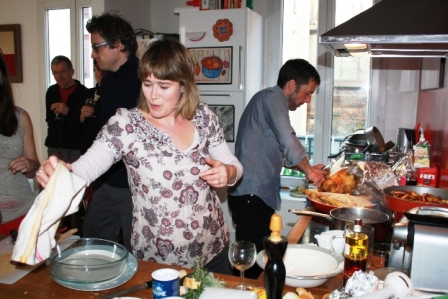 Needless to say we all slept soundly that night. Even the boys managed to last until 9 AM Christmas morning when they began discovering what Santa had left in their stockings. I managed to find a non-Christian patisserie to buy those delicious Parisian croissants for breakfast. By the time presents had been opened, it was time to go to the Wilson's apartment for a traditional Christmas dinner of capons, lots of winter veggies and Christmas pudding in addition to a Birthday Cake for Atticus. This was definitely a belt-loosening two days.