September and November 2007, March 2008
With the move of Erica and Andrew to Paris in October 2007, Ray and I had an opportunity to visit this fascinating city and really get to know it. Andrew had been hired by OECD (Organization for Economic Cooperation and Development) for a two year term as an International Tax Law specialist. This was quite a change for Erica and Andrew but one they have enjoyed.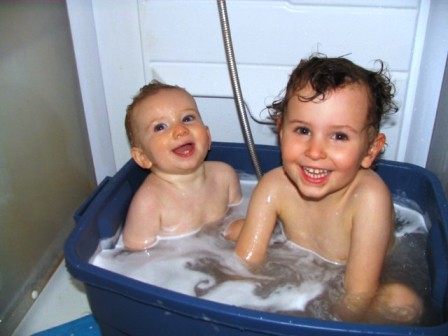 no bath tub so a Rubbermaid box is just big enough for two

Click the photo above to see an album of the Auerbach Burnham Children in Paris 2007-2010. Close the window to return to this page.
Erica and I took Roman, who was then eight months old, to Paris in early September to find an apartment. Their choice has proved to be good. They have a two bedroom apartment in the 15th Arrondissement, a residential area about 2 km south of the Eiffel Tower. Their apartment is very different from their reconstructed log house on 33 acres of land in Maxville Ontario. They now have a typical city of Paris apartment, full of character but at 82 sq m, compact. The two séjour rooms, which serve as the living room and dining room, and the master bedroom all have fireplaces, which they don't use and large French doors leading to small balconies overlooking a busy street. Luckily the French doors and shutters muffle the noise from the street. The kitchen and the boys' bedroom, with another fireplace, overlook an inner courtyard. The apartment is on the third floor, served by an elevator just large enough to fit two adults and two small children. Everything they need is within walking distance of the apartment. The Metro station, a large Monoprix grocery store, schools and parks are all within a few blocks of the apartment. There is even a good street market three times a week. Andrew and Erica have enjoyed sampling the several boulangeries and Patisseries in the area to buy those yummy croissants and baguettes. Like most Parisian apartments, storage space in the kitchen and fridge are at a premium so frequent or daily shopping is the rule.
Erica and I did manage to visit a few of the tourist attractions in September once we had decided on an apartment, although the final arrangements had to be made from Canada. We pushed Roman in his stroller around the Hôtel de Ville, the location of the Paris administration since the 13th C. Nearby is the Luxembourg Gardens where we found a grassy spot reserved as a picnic spot for toddlers and their parents. Roman loved it.
| | |
| --- | --- |
| Hôtel de Ville | Zadkine Sculpture Garden |
We found a peaceful spot for a break in our walk. The Zadkine museum with its sculpture garden is right near the Luxembourg Gardens. The museum, housing many of the Russian sculpture Zadkine's works, is housed in his atelier/home. Zadkine came to Paris in 1910 and was part of the cubist movement from 1914-1925.
Ray and I arranged our trip to the Philippines with a layover in Paris at the beginning and end of our trip. We stayed with Erica and Andrew in their apartment, joined in their daily routine and got to visit some of the Parisian must-see spots.
Paris is a walking city and that is a good thing as we arrived in November in the middle of a transportation strike. Many of the metro and train lines were on sporadic schedules or not running at all, so walking or taking a taxi were the best options. Luckily Andrew can walk to work. He has discovered that his 35 minute walk is not much longer than taking the bus or metro and he likes the exercise.
Part of our daily routine was to help pick up Atticus from school. Parisian children start going to school four days a week the year they turn three. Atticus, who was three on Christmas Day, goes to an École Maternal, part of the public school system and located two blocks from their apartment. Andrew drops Atticus off at on his way to work. Atticus seems happy attending the school and is gradually becoming comfortable in French, although he is not yet fluent. That will come.
Atticus stays at school for lunch and naptime, then resumes lessons until Erica and Roman, Ray and I, join the throngs of parents waiting to pick up their children at 4:30 PM. The first stop for Atticus and many of the other children is a play park across from the school. Erica brings Atticus' Skuut, a wooden bicycle without pedals, on which Atticus does really scoot. He calls his Skuut his BMW motorcycle. He has become addicted to motorcycles and has plenty of opportunity to see them as the sidewalks are lined with parked motorcycles.
| | |
| --- | --- |
| Atticus riding his Skuut | Playing in the park |
Once at the park the children are given snacks. Atticus choice is a pain de chocolate or chocolatine which he eats with relish. Roman gets a cookie or occasionally a bite of the chocolatine. Children kick soccer balls around and play on the equipment.
Erica suggested several expeditions we could make by foot. Atticus does not go to school on Wednesday, so we all set off to visit Montparnasse. We arrived in time to have lunch in one of the many Breton Crêperies on a side street near the train station. We all enjoyed our buckwheat main course crepes and sweet ones for desert but Atticus was more interested in visiting the toilet. The facilities were accessed by a steep, narrow circular staircase at one end of the small restaurant. Ray took him the first time, and no sooner was he back at the table than he wanted to go again, so I took him down the stairs, which is all he really wanted.
After lunch we took the children to a large park with green spaces, walking paths and a play area built right on top of the train station, an excellent use of space. A day without playing in the park is a dreary day for young children.
Another day we walked to the extensive and excellent Rodin museum where we had a picnic lunch in the gardens. After lunch we toured the three acre grounds where several of Rodin's larger sculptures are displayed, including the Thinker, the Six Burghers of Calais and Dante's Door. The main collection is housed in the Hôtel Biron, a mansion taken over by the City of Paris in 1906. Several artists, including Rodin established ateliers in the mansion. Rodin made a bargain with the City that he would donate his collection of sculptures to the city if they agreed to establish a museum in his name. The city voted Yes on 24 Dec 1916 but the museum wasn't completed until a few years after Rodin's death in 1917. This museum is certainly worth a visit the next time you visit Paris.



Rodin Museum: The Thinker


Throne Room at

Château

Versailles
Andrew joined us for a short train ride to Versailles on the weekend. The Château was crowded with day visitors, but we managed very well. We all said we could have spent much more time listening to the very good audio commentary as we wandered through the sumptuous rooms of the Chateau. We only saw a small portion of the extensive gardens but that will have to be saved for another visit.
We had more time to explore on our return visit in early March and Erica had arranged more free time for herself. In January Erica joined Mothers' English Speaking Support Group (MESSAGE) and has met several other interesting women with small children. She now trades children with a MESSAGE Mom one morning a week and Roman goes to day care two mornings a week. I accompanied her and Atticus one day to the Montparnasse swimming pool when one of her new friends had arranged to meet. The members arrange social activities for the children and the parents each week. It seems to be just what young families need.
With a longer visit to Paris we were able to arrange a side trip to Lion Sur Mer on the Normandy coast to visit a school friend Liz and her husband Yves Dat. Liz and Yves are grandparents and were well set up for visiting children. Andrew stayed in Paris for a well-earned quiet weekend while the rest of us rented a car, installed two car seats and drove to Normandy.
The weather was mixed, some rain and a little sunshine but we managed to find lots to do. Liz and Yves live just a few houses from a long sandy beach, just perfect for walks with children. Liz helped Atticus search for crabs, although the only ones brave enough to show themselves in March were dead. Atticus' grandparents taught him what happens when you stand at the water's edge and watch the tide break over your feet. You get a soaker.
We took day trips to the WWII Canadian cemetery Beny sur Mer and to see the D-Day landing beach Arromanches. The caissons sunk in the water to provide a safe harbor for landing British troops during WWII interested the adults but Atticus was more interested in the tanks outside the war museum, especially when he got hoisted up to the top of one.
Another day Erica and I took the children to Trouville where besides a large casino there is a small aquarium. It was just the right size for small children. Its collection of sharks and turtles were a big hit. We will be sure to return to Normandy on another of our Paris visits.
Erica and Andrew treated us to a delicious dinner at Le Morgane, a small restaurant a short walk from their apartment. It is now on the list of recommended restaurants.
Part of the value of being a grandparent is to be able to babysit. The grandparents get to know the children better and the parents get a break. Erica and Andrew took a train to Amsterdam for a weekend alone. Erica and Andrew got to play tourist without children and the grandparents played with the boys. It worked out very well despite some of us coming down with a brief intestinal bug. We will volunteer again and I am sure the offer will be accepted.
Back in Paris Erica and I visited a museum recommended by Liz. The Musée de Quai Branly was just opened in June 2006. An avid admirer of indigenous art, former president Jacques Chirac combined collections from the former Museum of African and Oceanic Arts and the ethnographic department of the Museum of Mankind in a complex of several buildings set around a large garden near the Eiffel Tower. The architecture is interesting with a mix of modern and old buildings, one with a living wall of mosses and fern growing up the side. The fascinating collection from Asia, Africa and North America was too large to see on one visit, especially if like us you want to listen to all the information available on an audio guide. If you have visited third world countries and enjoyed indigenous crafts, put this museum on your list.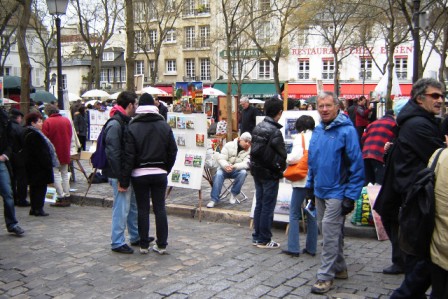 Place de Tertre
The Lonely Planet guidebook includes several well documented walking tours of Paris. Ray had taken a long walk on his own around the Eiffel Tower and down the Champs Elysée and thoroughly enjoyed it. Ray and I took time to follow two longer routes. We took the Metro to Place Pigalle, the home of the Moulin Rouge and now the sex shop capital of Paris. From there it was uphill to Montmartre past houses once occupied by artists and authors who once flocked to Paris. Montmartre is the most visited place in Paris and even on a cold, windy March day the area was teeming with people, especially in the Place de Tertre where artists still display their work. Alerted by Erica and Andrew we sought out and photographed the small side street just off Place de Tertre where Andrew's parents, Herb and Mary Auerbach, lived when they were first married 50 years ago.
Another day we followed the Latin Quarter route. Near the start of our walk Ray and I came upon one of the best hotel values in Paris. Three small building set around a private garden make up the Hôtel des Grandes Ecoles. If you plan to visit Paris, look it up.
Besides passing all the favourite haunts and homes of Ernest Hemmingway, we were on a quest for the best croissant in Paris. Morris Davison, who bakes his own croissants in Ottawa, sent us the name and address of the best shop, according to an article he had read. Since croissants are my absolute favourite breakfast treat, we had to find out if these croissants were better or as good as the ones we had sampled from the boulangeries near the apartment. We didn't find it as we had neglected to bring the instructions and being seniors, our memories failed us. Instead we had a delicious coffee and croissant at Paul, which turned out to be across the street from the recommended shop. Next visit…..
Our only disappointment was that the Hôtel de Cluny, was closed on Tuesday, the day we walked by. Besides being one of the most outstanding examples of architecture for a private in medieval Paris and partially constructed on the ruins of Roman Baths it is now the home of the Museum of the Middle Ages. Next visit….
Ray and I did stop in to visit the Church of Saint Sulpice where an organist was practicing for a performance that evening. The acoustics were superb. I stopped to have my photo taken in a side chapel dedicated to Joan of Arc, (Jeanne D'Arc), my namesake.
By the time we left the church it was time to time to eat. We happened upon Bread and Roses restaurant which turns out to be owned by the son of friends of the Auerbach Sr. It was a bit pricier than our usual baguette sandwich bought from a boulangerie and eaten on a bench, but it was a great choice. Many of the lunch crowd were repeat customers and greeted the owner as old friends.

side chapel dedicated to Joan of Arc

in

Church of Saint Sulpice



Visit to Grande Arche
Erica and I followed the Marais route which took us by many of the architectural gems of Paris, including Hôtels de Cluny and other "hôtels", the name given to private mansions built for wealthy Parisians in the 17th C, and the beautiful Place des Vosges. We topped off our walk with lunch at the best falafel restaurant in Paris, L'As du Falafel in the old Jewish Quarter.
Our last outing was to the Grande Arche, next to the huge La Defense shopping mall at the end of the west-end Metro line. The arch itself is interesting but don't bother paying €9 to take the elevator to the top. The view straight to the Arche de Truiumph is just as good from the bottom of the elevator and free. The viewing area on top of the Arche is a tiny area on the east side only. The art exhibits inside are OK but not a good as the other museums in Paris. The whole place gives the impression of being half-finished. The coffee at Starbucks in the shopping mall was good and got us out of the wind.
As you may guess, we look forward to our next visit to Paris. We are pleased that Erica and Andrew have adjusted so well. There are lots more places to visit and we enjoy seeing the changes in the boys. In the meantime we stay in touch via email and the occasional webcam Skype call.