BC and Alberta August 9-27 2022
Family and Friends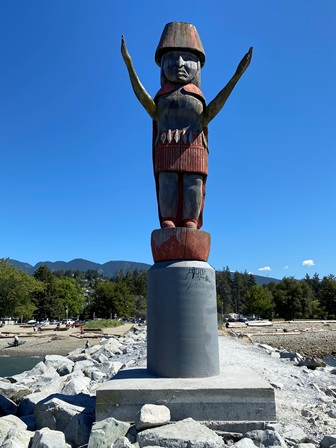 Vancouver
Click one of the photos above to see an album of our visit. Close the window to return to this page.

A celebration for Herb Auerbach, our daughter's father-in-law, was planned in Vancouver for his coming 90th birthday. Our Daughter, Erica, and her family would be travelling from Paris to attend, and Ray and I were also invited. We decided to make the trip to Vancouver part of a longer visit to see some of our other relatives and friends who live in the west.

Ray's cousin Ann Richardson and her husband Gerry, live on Pender Island. Ann suggested we might like to take a sea plane from Vancouver to Pender for a change. We did, had a good visit with Ann and Gerry and left the next day by ferry, back to Vancouver.

Sandy and Ron Johnson, friends we met in Zihuatanejo, Mexico, kindly invited us to stay with them during our stay in Vancouver. To wish Herb, Happy Birthday, there was a grand gathering in the Bill Reid gallery with over 100 family members and friends. When we weren't involved with our family activities, Sandy and Ron brought us to see all their favourite parks and beaches in Vancouver. We also had a chance to get together with friends Harvey and Carol Thibault for lunch in a Vancouver park. Another day, we met John and Marj Pike, friends of Ray's from his Universary days, for lunch.

From Vancouver, we flew to Fort St. John, on the Peace River. Ed and Nedra Forrester, also friends from Zihuatanejo, met us and drove 1 1/2 hours to their home in Hudson's Hope. We got to see the two large Peace River Hydro Dams, plus the progress on the new C3 Hydro Dam. We were also taken to a country fair in the area and a rodeo on an Indigenous reserve. I even got to celebrate my birthday on August 22 with a cake baked by Nedra.

Our last stop in the west, was Calgary, where we stayed with Marg and Jack Dunphy, friends for many years. Ray's birthday on August 25 was celbrated in Calgary with a cake, plus a visit to Kananaskis Park.

And so ended a fantastic trip, all made possible by our terrific hosts. Now we are just waiting to return the hospitality we were shown!

Return to Travels
Return to Introduction