Thursday March 6, 2003 Cusco, Peru
Continued from Page 1
We took the bus the next day across the border to Peru and stayed overnight in Piura. It was a much easier border crossing than our previous one through Tumbes, Peru. We were on a through bus and just had to present ourselves to the Ecuador border post to get stamped out, walk across a bridge and get stamped into Peru.
Piura was just an overnight stop as we were headed for Chiclayo, on the coast. We had heard good reports of pre-Inca archaeological finds in the area and decided it was worth a visit. Jessica and Jonathan, who had travelled with us from Cuenca to Vilcabamba were also interested in going. They had taken the overnight bus from Vilcabamba, so we arranged to meet up at a hostel in Chiclayo. Four others, Dave and Caroline, whom we had met in Cuenca, a German girl, Ursula, and an American girl, Amy, had been on the night bus. They all wanted to visit the archaeological sites, so once in Chiclayo, we made arrangements for a tour.
Early the next morning we boarded a minibus to see the the grave site of the Lord of Sipan and the temple ruins of Tucume. We were lucky in our guides. Julio, who spoke only Spanish, was involved with the first discoveries of Sipan in 1987, so he was very knowledgeable. The Sipan discoveries, grave sites of the Moche peoples who inhabited the region 1700 years ago, have been written up in National Geographic, but I don't know which issue. A young lady, Patricia, was sent along as our English interpreter. She tried hard, but her English was still at the beginner level so I eventually found it easier to listen to Julio, whose Spanish was easier to understand.
| | |
| --- | --- |
| Guide on top left with our tour group to Lord of Sipan | tomb of Lord of Sipan |
Fourteen graves have been uncovered in Sipan, about 30 Km southeast of Chiclayo. The most famous is a warrior priest called the Lord of Sipan. He was covered with sumptuous gold and silver ornaments and buried 12 M below the surface under a pyramid structure. Accompanying him in death were two guards, a principal wife, concubines, a dog and a llama. The guards were prevented from running off in the afterlife by having their feet cut off. Surrounding the bodies were hundreds of clay pots, most in the shape of squat little men, containing offerings of gold or food.
Another grave contained the body of an older man, thought to be the grandfather of the Lord of Sipan. He carried with him into death even more elaborate gold ornaments. The area all around Chiclayo is a desert, so the dry air plus the care in which the graves were constructed helped to preserve the bodies. There is still a lot of work to do to complete the archaeological studies but money has run out. Several of the artefacts uncovered are on display in the US and Europe, hoping to create interest in continuing the work.
| | |
| --- | --- |
| towmb of an elder in Sipan | Tucume pyramids |
We drove back through Chiclayo and 30 Km north to visit Tucume. Three large pyramids were built in the desert by the Lambayeque people between 1200 AD and 1500 AD. The pyramids housed a large residential area, food storage areas and temples. Just part of it has been uncovered and reconstructed. We climbed up steps leading to the top of a natural hill that was used as a temple and celestial observatory by the Lambayeque. From the top we could get a better impression of the layout of the pyramids. It must have resembled the Egyptian pyramids in its prime.
After a good lunch in a restaurant in the town of Lambayeque, 11 Km north of Chiclayo, we visited the new Museo Tumbes Reales de Sipan. It has only been open for two months and concentrates on the finds from the Sipan tombs. It was very well done and gave more meaning to what we had seen at the site. You can go through the exhibits on your own but we were lucky enough to have Julio with us. He soon attracted a small crowd of locals who were visiting the museum. He certainly added to the descriptions provided with the displays.
The next day we had a flight to Lima. It didn't leave until the early evening so we had time to visit the local market which was supposed to have a Witches section. Ray and I, Jessica and Caroline set out to find it that morning. The market was huge and we attracted quite a bit of attention as we were the only gringos around. In fact, we saw very few other gringo tourists in Chiclayo. The sites in the area haven't become popular yet.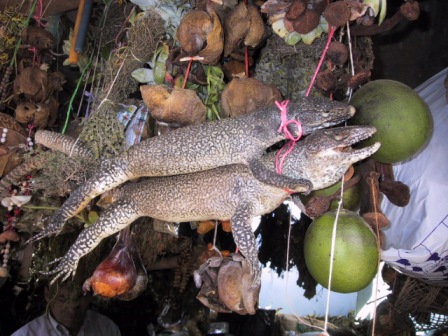 dried iguanas for herbal remedies in Witches section of Chiclayo market
The vendors were friendly and interested in where we were from. Caroline spoke quite good Spanish so she struck up several conversations with the vendors. We had to ask for directions several times but eventually we found the Witches section. The main products sold in the booths are herbal remedies, but they also have such exotic items as deer hooves, dried iguanas, snake skins, a bear paw and ocelot pelts. Several of them brought out from behind their booths what they claimed were genuine Moche artefacts for sale. We had read in our guidebook that this illicit sale of artefacts should not be encouraged, and some of them looked like the real thing. I ended up buying a small stone whistle, which I am sure is a reproduction.
We flew to Lima that evening and got a room in a hostel in the safe and friendly Miraflores section of town. Lima does not have a reputation as a very safe city. That was illustrated to us on the taxi ride from the airport. A truck with a load of soft drinks was driving along the expressway beside us when a van pulled along side the truck. Someone in the van reached out and grabbed a case of pop off the truck before a helper, riding on top of the truck could react. Luckily we were safe inside the cab.
We had one day in Lima. Just enough time to visit one of the Museums in town. The Museo de la Nacion was recommended to us so we took a taxi there the next morning. We hired an English speaking guide to show us around the Anthropological displays of the cultures in Peru from the stone age to the Incas in the 15th century. We got a quick overview of the rich civilizations that existed in this part of the world. When our guide had finished we had time to do the tour in reverse to fill in the gaps we missed the first time through.
While Ray rested in the lobby of the museum, I made a quick tour of a display of "Popular Art". Many of the artwork we have seen for sale in markets. There were gaily coloured crosses, miniature street scenes, a display of hats from various towns and dolls dressed in regional costumes.
After that tour we deserved a good lunch. We took a taxi back to Miraflores and ate in a Cevicheria, a seafood restaurant. There are lots of restaurants to choose from in Miraflores. They serve good food but they are a bit on the pricier side. That goes with the upscale neighbourhood.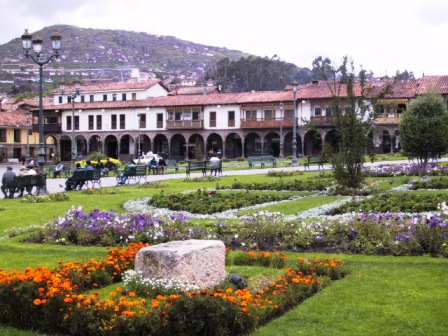 lovely Cusco plaza
The next morning we flew to Cusco, our last stop before flying home from Lima. The town and the environs are "must see" destinations for most tourists to Peru, but that also brings our the street vendors in force. We have never been subjected to so many sales pitches in one place as we were in Cusco. So far we have managed to stay polite, but it gets a bit tiresome. Besides that, Cusco is a very attractive town with many Colonial era churches and buildings plus plenty of Inca ruins nearby. I only wish it were a bit sunnier and warmer. March is still in the throes of the rainy season and none of the buildings have heating. Thank goodness lots of blankets are provided in our hostel. We need them.
We took a bus tour of the Sacred Valley. It is so named because it follows a river sacred to the Incas from Cusco all the way to Machu Picchu. Our guide, Seraphina, was excellent. She imparted a wealth of information on the legends and history of the Incas, medicinal plants growing alongside the road and archaeological information. Ray was pleased as our time in the market towns along the way was limited to 20 minute walk through. That made for more time in the Inca sites, but I still managed to pick up a few souvenirs. I have to come home with something for our four months away!
| | |
| --- | --- |
| Inca Calendar signs on rug to take home for our home | Ollantaytambo Temple in Sacred Valley |
Although the Incas ruled the area for just one century, they built up an impressive empire. They had an advanced system of agriculture with terraces on the hills, built with gravel drainage systems and strong walls to prevent erosion on the hillside. The first Inca site we visited was Pisaq, with storage area for grain, a temple and thousands of burial sites in the limestone cliffs. Ollantaytambo was a temple area constructed with huge granite blocks that were transported over specially built ramps from the quarry several Km away. Our last stop was to see a colonial church built over Inca foundations at Chinchero. The Spaniards chose that site to convince the natives that conversion to Catholicism was not that big a leap. It worked.
There are several more sites in around the city of Cusco that we plan to explore today. Then tomorrow morning we will start our four day hike to Machu Picchu. We are madly doing a sun dance every day to keep the rain away. At least the weather seems to be moderating. We are looking forward to our walk in the mountains and have been assured that our tents will be very good. We pray that is true!
Back to Episode 8: Page 1