Sunday February 16, 2003 Banos, Ecuador
Yes, we met Igor the Iguana and many of his friends in the Galapagos. We had a great time exploring the many small volcanic islands and swimming in the warm ocean waters. I hated to leave those tropical temperatures and return to the relatively cooler temperatures of the Ecuadorian Andes. All the same, the mountains have their own charm to compensate.
To get to the Galapagos, you have to fly from either Quito or Guayaquil, Ecuador. Guayaquil is closer to the Peru border so that is where we headed. We found out it is a lot more expensive to fly over international borders, so instead of flying directly from Arequipa, Peru to Ecuador, we flew to northern Peru and took the bus the rest of the way. That made it a little more complicated travelling, but it worked. We stayed overnight in Piura, Peru, then took a 4 hour bus trip to Tombes, the nearest town to the Ecuador border.
At the Tombes bus station, we were the only gringos getting off the bus and we were besieged by taxi drivers vying for our business. There was almost a fight as to who would win the contract to take us the last 26 Km to the border where we would board another bus bound for Guayaquil. We should know better than to take the cheapest offer, but we could not resist a price of 5 Soles ($2.20 CAD). Ray and I got into the cab with the driver and his companion and took off. We were immediately offered an all inclusive price of S/20 each to take us across the two border crossings and directly to the bus station in Ecuador. That sounded like bait and switch to me so we just kept repeating "No, gracias" and reminding them they had quoted S/5 to take us to the Peru border point. We figured we could handle it from there. This did not go over too well, but we kept going.
Just when we could see a large Peruvian flag waving in the distance, our driver turned off and proceeded through an area that looked like a slum. We were a little worried, but our driver insisted it was only a detour to avoid paying a $2 USD toll on the main highway. He was telling the truth and we eventually arrived in front of the border post. Just to be sure, Ray and I went individually into the post to sign ourselves out of Peru. Then we compromised. I knew that S/5 was not quite enough for a 26 Km trip, so I suggested we would pay them S/20 total if they took us across to the Ecuador crossing. They agreed and off we went a few Km further through the most crowded market street I have seen so far in South America. The driver stopped at a bridge crossing to Ecuador. We refused any further assistance, for more money, and said goodbye.
We had another 1/2 Km to walk with our packs until we reached the bus station, but there we found our final bus of the day waiting for passengers. We loaded our bags inside and took off for the final 4 hour trip to Guayaquil. We had our first taste of Ecuadorian security on that bus. There was an armed guard escort the whole way and we had to stop for several other police checks. We were not bothered at all but several of the Ecuadorians seemed peeved at their perceived hassling. It may have been because of the purchases that they made at the crowded border market, for one complaining woman had what looked like an entire store inventory with her on the bus.
Anyway, we arrived in Guayaquil in the rain. In fact, the newspaper said it had rained for 27 hours, hard. We were glad we had raincoats and umbrellas and that most of the buildings projected over the sidewalks giving us extra shelter.
Guayaquil has a reputation for being a dangerous city but we are glad to report that we had no problems at all. To us it seemed that the biggest employer in Guayaquil was the company supplying security guards. Every bank and every store, no matter how small, had its own armed guard stationed outside. It seems to be working. On two different occasions, Ray and I were seated in a restaurant open to the street when we were approached by someone asking for money. The security guard immediately intercepted and shooed the person away.
The next day we visited a travel agency and booked an 8 day/7 night trip to the Galapagos. You have a choice of booking last minute trips in Guayaquil or Quito or waiting for an even better deal in the Galapagos themselves. We decided to play it safe and chose a boat leaving that Sunday. That meant we had an extra day in Guayaquil, which turned out nicely.
The day was clear and sunny, hot in fact. We walked along the newly renovated waterfront that stretches for several Km s in the downtown area. We detoured to a crowded market place to look for a T-shirt Ray could wear when snorkelling. The vendors were having a slow day so we were fair game. In fact I think we were shown the merchandise from twenty different vendors before we made our one small purchase. That is how the markets go. You have to keep your cool, which is not always easy.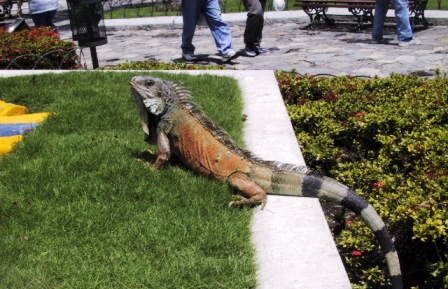 After the market, we were ready for a break so we headed for the small Parque Bolivar where we joined several families all coming to introduce their children to the resident iguanas. The iguanas are obviously thriving in the park as they were all over the place and were very tame. Several people brought along banana peels to feed the iguanas. One even took a peel right from my hand. Just when we were leaving the park, we heard band music across the street in front of a large Cathedral. A service was just ending and a large brass police band had assembled to entertain the public. We hurried over and were treated to a half hour concert of lively Spanish tunes. They were very good and well appreciated.
Sunday found us on the 9:15 AM flight to the Galapagos. We gained an hour flying nearly 1000 Km into the Pacific, so we were on Baltra Island at 9:45 AM. Baltra is a tiny island just north of Santa Cruz, one of the main islands. Baltra does not have much besides the airport on it, but it does have a boat harbour where the cruise boats wait to pick up their passengers. It was a short bus shuttle from the airport to a small dock where our boat was anchored. Dingys were dispatched from the various boats and soon we were on the Yolita and unpacking in our cabin.
Just as we have been choosing inexpensive backpacker accommodations during our trip, we opted for a small simple boat for our trip. The Yolita can take up to 12 passengers housed in 6 small cabins. We had our own bathroom with shower, but it was not luxury accommodations. There was a nice dining and seating area inside and a canopied deck on top to watch the islands go by. We were comfortable but we were glad to have earplugs to block out the sound of the motor during several overnight sailings. That was the downside of a small boat.
We had a well informed, friendly guide, Marcella, who is from the Galapagos. She spoke quite good English and French as well as Spanish, so language was not a problem. She was always enthusiastic and well informed so we learned a lot about the flora and fauna during our trip. Our five member crew took good care of us and Jose, the cook, provided lots of tasty meals from his tiny kitchen. This was a dive boat as well, so the dive master, William, was also on board for those who chose this option. Ray and I stuck to snorkelling.
| | |
| --- | --- |
| Marcella | Boat companions |
Our boat, like many others, gives people a choice of a 4, 5 or 8 day trip. For the first 5 days we toured the southern islands of the Galapagos with two Aussie girls and four other Canadians for companions. We all got on very well and were charmed by the islands. Ray and I and two of the Canadians taught some of the crew to play cribbage. They took to it so well that the other Canadian couple left them their cribbage board. The crew played every night after that!
| | |
| --- | --- |
| Iguana on Isla Espanola | Giant land turtle |
We usually visited two different islands each day, one in the morning and another in the afternoon. We would all troop on to the island with Marcella, who would point out the geological and vegetative differences of each island. They are of volcanic origin and most are deserts with cactus or small bushes the only vegetation.
Seals abound. They are not intimidated by tourists walking by, ooh-ing and ahh-ing about how cute they are, and snapping pictures. In fact, you often have to shoo them away in order to step onto the island. All the wildlife was extremely tame. We had no trouble getting close up shots of all the animals and birds.
We saw both marine and the more colourful land Iguanas. There were lots of tiny lava lizards scooting about and beautiful red crabs on the rocks. We saw turtle nests and large green turtles trying to swim ashore. Birds were everywhere and were not like the ones we see at home. Even the gulls and pigeons are unique to the Galapagos. We were especially pleased to see the blue footed boobies, some penguins and an Albatross chick.
| | |
| --- | --- |
| Tracks to Turtle Nest | Blue Footed Booby |
My favourite activity was swimming and snorkelling, which we got to do twice each day. I never tired of watching all the colourful fish swim by. We even saw Manta and Eagle Rays and several white tip sharks, that thankfully were not interested in us. The seals are curious animals and love to swim and cavort right next to you in the water. If you are lucky, you can even swim next to penguins and turtles. All that activity gave us big appetites for Jose´s good food.
Ray and I were the only passengers to stay 8 days on the boat so we got to meet a whole new crowd to tour with us around the northern islands. We had two Swiss, two Austrians, a Frenchman, an American and a Chilean family of four. Fernando, with his two sons and daughter had come for four days of diving. In addition to snorkelling, they usually managed two dives a day and always came back raving about what they had seen.
The last day we motored back to Baltra Island again. We were sorry to leave. We saw lots of interesting animals and fish and visited many islands, but we didn't see them all. We both were glad we had opted for the 8 day trip. Our fellow passengers who had elected to stay only 4 or 5 days would have loved to stay longer. I know I could have kept going for a while longer.
Next: Episode 7: Page 2