Burnham Siblings Joint 50th Anniversaries
Ellicotteville NY May 2015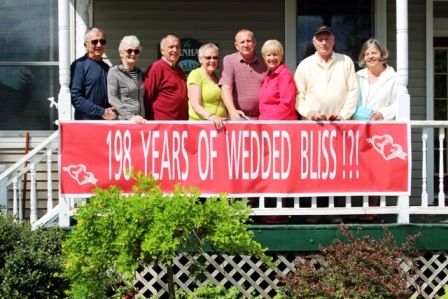 Click the photo above to see an album of Photos of our explorations around Ellicottville. Close the window to return to this webpage.
Not every family can claim three out of four siblings marrying in the same calendar year. Even more unusual is that we are still with our original spouses, even 50 years later. Lorie and Carolyn (Burnham) Demmings were married first on February 26, 1965. Richard and Charlotte (Coleman) Burnham were next on May 15, 1965. Ray and I (Jeanne Frew) rounded out the year by marrying on December 30, 1965.

Lorie approached me in the reception line at Ray and my wedding and announced that we would all be celebrating our 25th anniversaries together. I was just barely used to my new last name and couldn't think that far ahead. I thought Lorie was very hopeful. Guess what? We did celebrate our 25th together at Club Med, Cancun, Mexico in 1990. The last Burnham sibling, Jack, married Jenni Smalley on May 20, 1967, but we don't hold that against him. He and Jenni get to celebrate with us too. We have been continuing to celebrate together about every five years and this year was extra special. As the sign, arranged by Charlotte says, we have 198 years of marriage between us.

Charlotte and Richard invited us to join us in their ski house in Ellicottville NY, south of Buffalo. We arrived on May 20 2015 to spend the next several days enjoying great meals and exploring the wooded hills of the nearby countryside.
<![if !supportLineBreakNewLine]>
Charlotte and Richard did a great job suggesting interesting places to visit. The next day, Charlotte, Lorie and Carolyn enjoyed a round of golf at the Holiday Valley Golf Course. The rest of us explored the Griffis Sculpture Park near East Otto, NY. Larry Griffis created first sculpture park in the US in 1966. More than 250 works are spread over 425 acres with trails leading visitors up hills, into forests, and around ponds. We were all captivated by the variety and scope of the displays. We took lots of pictures.

It just a few km to neighbouring Pennsylvania. The eight of us took off for a packed day visiting Kinzua State Park, Smethport and finally the Zippo museum in Bradford. None of us had ever been in this part of the country before.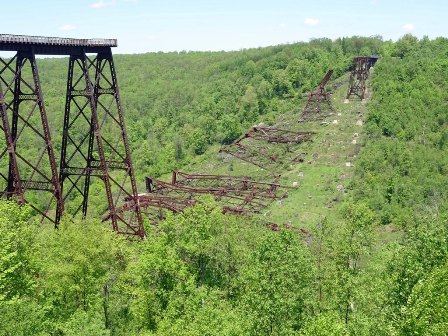 The Kinzua Bridge was built in 1882 to permit train loads of coal from nearby mines across the broad Kinzua Gorge to join up with branch railway lines in Pennsylvania. The bridge was rebuilt in 1900 to convert the wrought iron structure to stronger steel. When commercial use of the bridge ceased in 1959, the bridge became center attraction of a new State Park and sightseeing steam train trips over the bridge. That all came to an end when a tornado, with winds of at least 151 km/hr hit the bridge in 2003, causing 11 of the 20 bridge towers to collapse. The cause was determined to be badly rusted bolts anchoring the towers to concrete bases. It took a mere 30 seconds for the bridge to be destroyed. Nevertheless, the bridge remains a powerful tourist draw. We walked out on the bridge to the end of the intact section to view the crumpled remains of the downed towers. It was a powerful reminder of the damage Mother Nature can render to structures built by man.

Forestry, oil reserves and railroads contributed to making this part of upstate Pennsylvania one of the wealthiest districts in the US in the 19th C. We spent a pleasant few hours in Smethport taking a walking tour past large, well-restored Victorian style houses, built by the Lumber Barons and bankers, that line the main streets of town.

Our last stop of the day was to the Zippo lighter museum in Bradford. The Zippo, windproof lighter was invented in the 1930s by a Bradford resident, George Blaisdale. At one point, almost everyone, including Ray, who didn't smoke, owned a Zippo lighter. There were Zippo lighters on display illustrating style changes throughout the years, plus an exhibit of Case hand-crafted knives, a company now owned by Zippo. Outside the museum was the Zippo car, resembling a Zippo lighter, built in 1947 as an advertising gimmick.

Our next day together was another adventure. We all set our for a driving tour of the Amish Trail. We spent the morning passing through beautiful countryside populated by many families still adhering to the simple ways of farmers centuries ago. It was springtime and laundry was hanging on the lines and farmers were out plowing the fields with teams of horses. We took a lunch break at the Mustard Seed restaurant in South Dayton. As we were getting ready to leave, our waitress asked if we were going to the auction.

"What is this auction, and where is it?" we asked.
"It is the biggest auction of the year, supporting medical expenses of the Amish people and it is just 15 minutes away in Cherry Creek", our waitress told us.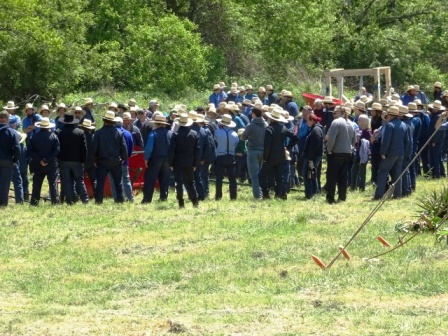 What a treat! We found the auction site in a livestock sales barn in Cherry Creek and spent the next few hours learning more about Amish ways. Black buggies filled a parking lot outside and throngs of people lined up to buy food for lunch and homemade jams, jellies and condiments. A large group of men gathered around an outdoor sales area bidding on farm machinery. We watched an auctioneer drum up enthusiasm for hand-made furniture, beautiful quilt and other crafts being shown and enthusiastically bought by the large audience. The prices were not inexpensive but we were told that you could expect to pay much more in a commercial setting.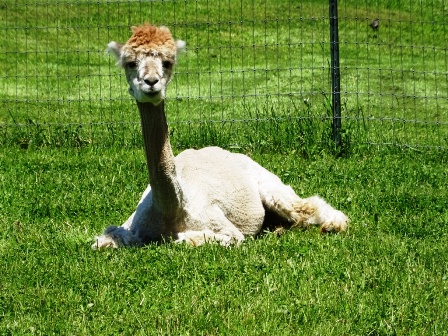 <![endif]> We had one last stop to our day. There are a few Alpaca farms in they area and we stopped to see A Slice of Heaven Alpacas near Randolph NY. It is owned and run by a pleasant couple, who showed us around and answered all our questions about these cousins of camels. They also have a gift shop stocked with lots of tempting items. I bought myself a cozy alpaca sweater that is becoming one of my favourites and Jenni, the knitter, bought a skein of yarn that will make a beautiful scarf.

Sunday gave us time to just walk around town of Ellicottville, admiring the well-kept streets, visiting a few garage sales and planning to return to sample some of the restaurants, although they would have a hard time beating the home cooked meals we took turns preparing.

Just think, in another five years, or perhaps sooner, we could be back together celebrating more anniversaries again.

Return to Introduction