Monday 8 March 2004 Curl Curl NSW
Well, this is the last letter from Australia. We leave tomorrow, 9 March, to fly to Kuala Lumpur. We haven't made any firm plans but at this point we are leaning towards a relaxing stay at a beach resort, as long as we can avoid the rainy season weather.
We left Canberra in wet, cool weather and drove back to the coast. With more rain forecast, we opted for a hostel rather than a tent site in the small resort town of Ulladulla. Since we were not going to the beach, Ray took Priscilla to a local garage and had her all checked out. She passed her pink slip test with flying colours. That means she could be sold without needing any mechanical repairs.
The rain let up enough in Ulladulla for us to take some interesting coast walks. The local Aboriginal community, in collaboration with other environmental groups, constructed several Kms of walkways through the bush. As well as viewing the coast from several lookouts, we learnt about the history of the area from the Aboriginal viewpoint from carved wooden signs placed along the pathways.
The Aussie have been unfailingly friendly and helpful and the hostel manager in Ulladulla was no exception. When he heard we liked seafood and intended buying local oysters for dinner, he insisted we take a snapper he had caught to complete our meal.
The weather still wasn't great when we left Ulladulla to travel a little farther north towards Sydney. We got as far as another small beach resort, Gerringong where we stayed at a YHA hostel on property owned by the Uniting Church. It used to be the manse, but the church built a more modern home for their minister and the original became a small hostel. This church group is very enterprising. Besides the hostel they run a meeting hall, a lodge for school groups and have a retirement residence in town.
When the rain stopped momentarily, we went for a walk on Werri beach, down a hill from the hostel. There we saw our first rock pool constructed at one end of the beach. The first of these pools were constructed in the early 1900s. They are carved out of the natural rocky shore and bordered with a low concrete wall. The surf was much too wild to consider even swimming in the pool that day but normally they provide a safe and calm environment for swimming. The pools have become a feature of many of the towns along the coast both south and north of Sydney.
The weather finally turned for the better and I was able to try out my new one-piece swim suit at Seven Mile Beach. I had to finally throw out my worn-out suit I brought to Oz and buy a new one. I first bought a two piece number that proved less than suitable in the surf. I had to hold on to it with one hand while managing my boogie board with the other. Ray had a good laugh anyway. The one-piece suit provided more modest swimming.
We wanted to visit the Blue Mountains on our way back to Sydney and the Lonely Planet had an interesting write-up of a Bird Observatory in the Barren Hills. This seemed to be an interesting side trip. Like the Eyre Bird Observatory, it is run by Birds Australia, so maybe that was why no one was around at their park office even though it was a Saturday. We did manage to find a trail to take a nice two hour walk but there was no exciting bird life to see.
We finished our walk too early for lunch so we drove a little further until we spied picnic tables at Robertson's Famous Pies restaurant. It must be a great place if the number of Saturday morning motorbike riders was any evidence. 15 - 20 bikes were parked while their riders munched pies. We were surprised that there was not a Harley amongst them, all colourful Japanese models.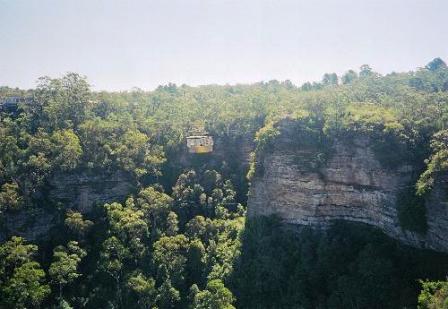 Cable Car over the Blue Hills
We had been warned that the Blue Hills was liable to be crowded. It is the second most visited spot after Sydney Harbour and the traffic all the way attested to that. A train running from Sydney up through the Blue Hills has made it convenient for many Aussies to move up there. Nevertheless we were impressed with the hills. We stayed in a caravan park in the main town, Katoomba, our last nights in our tent. The caravan park was in a great spot right across the road from the walkways along the cliff tops. We followed the paths to marvel at this mini Grand Canyon all covered in green trees. The views were quite spectacular and we managed to find trails away from the hoards of tourists.
We drove into Sydney on March 1 as we were getting concerned about the time it might take us to sell Priscilla. We drove straight to the King's Cross Car park where we had bought Priscilla and made arrangements to put her up for sale. The number of cars on offer and talks with some of the owners did not make our task look easy. It was off-season now and there were not enough buyers to keep the prices up. Some people had been there for more than a week and an underground car park is not a great place to spend much time. We got a room in a nice hostel right next door and made up ad sheets for Priscilla and settled in to sell. All we needed was a buyer.
A tradition had been started that required the lucky seller of a vehicle to buy a case of beer to be shared by those still waiting. Maybe that was why everyone stayed upbeat and cheery. The first morning Ray took some of our notices to downtown hostels while I manned our spot and the second morning I went to visit the Sydney Museum of Natural History while Ray stayed behind. He decided a proactive approach was needed and helpfully greeted everyone who seemed the least bit interested. It worked and we bought the beer. We sold that day to two young Danish girls for just $300 less than we had paid initially. We had done so well that some of the others wanted to hire us to sell their vehicles. Sometimes grey hair and a certain maturity help.
That sale left us free for a little R&R at Bondi Beach. We took the train and bus out for an afternoon of swimming and sun. There were lots of people on the long sandy beach but it was not overly crowded. Ray was pleased to note that topless bathing has not gone out of fashion. We had a good time body surfing, the boogie boards were part of the sale package.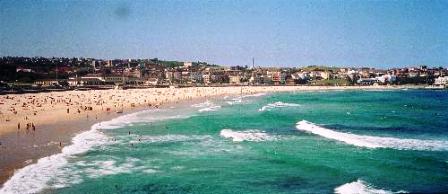 Bondi Beach in Sydney
We had not considered the surf to be too high or dangerous but we were reminded graphically of the care needed in swimming in strong currents. A young Asian boy, swimming in the surf board section of the beach went missing. The life saving team did find him but despite their efforts, they failed to revive him.
| | |
| --- | --- |
| Bill and Kay Brideau | Sydney Bridge |
Selling Priscilla also allowed us to finalize plans to visit Bill Brideau, a fellow engineer who attended NSTC in Halifax with Ray back in the 60s. Bill and his wife Kay live in Curl Curl, one of the north shore communities two beaches north of Manley. Curl is waves so Curl Curl is lots of waves in Aboriginal. We took the ferry from Circular Quay in Sydney to Manley Beach, getting a harbour tour on the way. Despite not having seen Bill since he left for Oz in 1970, Bill and Ray managed to recognize each other at the ferry terminal.
Bill and Kay were super hosts. We also enjoyed meeting their daughter Joanne who has moved back home to return to Uni. The first afternoon we went swimming in the surf at Curl Curl Beach and enjoyed a great seafood dinner at Manley Beach restaurant that night. We also had guided tours of all the scenic headlands and beaches along the north shore.
| | |
| --- | --- |
| Natural ocean pool at Curl Curl Beach | Giraffs seek shelter from the rain at Sydney Zoo |
The weather Saturday turned rainy again, but it didn't stop our day at Taronga Zoo in Sydney. We saw a bird show where the attendants fed several varieties of birds we saw in the wild. I finally saw an echidna that had eluded me in the wild and we saw the little platypus again. We admired lots of other animals from Oz as well as other continents but the best picture was a group of five giraffe, all different heights, huddled together in the doorway of a shed, peering out at the rain.
Sunday was Kay's birthday and we were included in a celebration dinner at the home of Rachel and Maurice Loomes, close friends of Bill and Kay. The weather did clear enough for us to walk in their garden and feed the tame kookaburras.
Monday morning dawned nice and sunny again. Bill went off to compete in an inter-club over 60 golf tournament and Kay took us to several good spots to get our last photo ops in Oz. Ray and Kay went for a swim at the beach while I stayed back to write this last Oz epistle. We will have dinner with the Brideaus once more, then return to our hostel in the city to pick up the rest of our luggage and prepare to fly out Tuesday afternoon.
We had a great time in Oz. We drove more than 26,000 kms and probably saw more of the country than most Aussies have seen. The people have been terrific and we have been impressed with the natural wonders.
Everyone asks us what was our favourite spot in Australia. There were so many interesting places to visit we cannot pick just one favourite. Instead, we have come up with a highly subjective Best of Oz list. We could probably add to it given more time but here it is now.
- Best East Coast Great Barrier Reef trip - Lady Musgrave Island off Town of 1770 Qld
- Best West Coast Reef snorkeling - Coral Bay WA, especially the Aquarium beach
- Best beach - MacKenzie Beach, near Bateman Bay NSW
- Best white sand beach - Whitehaven Beach, Whitsundays Qld
- Best natural phenomena - Uluru (Ayer\rquote s Rock) NT
- Best waterfall - MacKenzie Falls, Grampians Vic
- Best tree to climb - Centennial Tree, Pemberton WA
- Best stone arch - Admiral\rquote s Arch, Kangaroo Island
- Best National Park - Cradle Mountain Tas
- Best biking area - Adelaide SA
- Best hike - Cradle Mountain Tas
- Best hostel in a city - The Annex of Backpacker Oz, Adelaide SA
- Best hostel with pool - Tropic Days, Cairns Qld
- Best equipped Caravan Park - Porongurops WA
- Best Caravan Park pool - Tennant Creek
- Best evening entertainment - Bush Talk in Tennant Creek
- Best half day excursion - Quad bike and snorkel trip, Coral Bay WA
- Tamest wild animals - Dolphins at Monkey Mia WA
- Most eccentric town - Coober Pedy SA
- Most eccentric independent citizen - Prince Len of Hutt
- Best Market - Queen Victoria market in Melbourne, second place - Adelaide
- Best and greenest city center - Adelaide SA
- Best wine district - take your pick! They all had more good wineries than we could visit
- Best spontaneous party - Melbourne Cup celebration near Yungaburra Qld
- Most unusual roadhouse - Brewer's Creek NT
- Most generous restaurant meal - Findlay's Fish BBQ, Kalbarri WA
- Coldest night in a tent - Blue Mountains NSW 6C, followed by Cradle Mtn Tas 7C
- Hottest night in a tent - Northam WA
- Best hosts - All our hosts could not do enough for us. We thank Carol and Eric Hobson in Adelaide, Paul and Judy Galloway in Wagga Wagga, Jill and Brian Jones in Canberra and Bill and Kay Brideau in Curl Curl